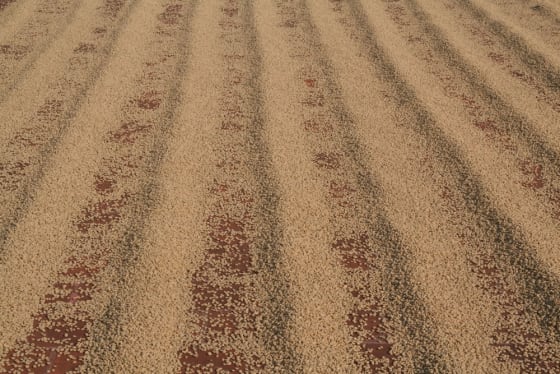 Coffee beans raked out for drying prior to roasting in Antigua, Guatemala. / Shutterstock.com
While a recent large investment by McDonald's in Guatemala has brought them kudos from conscious consumers, sustainable principles embodied in 'Certified Organic' and 'Fair Trade' standards are facing a challenge from a natural hazard: Roya.
Roya, also known as leaf rust, is a fungal disease currently attacking coffee crops in Central America, home of the world's largest coffee exporters.
In many areas, it is so entrenched that organic practices, such as quarantine, have proven ineffective. Farmers that use chemicals to save their crops are in danger of losing their labor intensive and expensive 'Organic' status, but if they do not, they are in danger of losing their livelihoods.
The three largest corporate buyers, Starbucks (SBUX), Dunkin (DNKN) and McDonald's (MCD) have caught the sustainability bug in recent years. McDonald's claims the change was driven by consumer demand for high-quality sustainable coffee and acknowledges that sustainable practices produce the quality they wish to continue delivering.
In fact, McDonald's recently announced an investment of $6.5 million over five years in Guatemala to secure supplies of Arabica beans while alleviating poverty, as reported by Bloomberg:
"The initiative seeks to address root causes of poverty among farming communities by expanding the use of techniques that will promote sustainable, profitable agricultural" .
The question is whether Corporate Buyers, like McDonald's, Starbucks and others will need wiggle room regarding 'organic certification' to deal with the epidemic.
Chuck Patton, of Bird Rock Coffee Roasters, is a Direct Trade Roaster out of La Jolla, CA and recently returned from Central America. He invests directly with farmers to produce Certified Organic coffee beans and is directly involved, as they say of Direct Trade, from "farm to cup."
Patton claims the Roya problem cannot adequately be addressed while keeping true to current Certified Organic standards without jeopardizing more crops, leaving farmers with few choices, and possibly losing their crops and livelihood.
Patton suggests flexibility on certified standards is needed to combat the issue. This means using chemicals to treat crops, typically not allowed in 'organic' sustainable farming.
Bending the rules a bit for a short time, in Patton's view, is better than seeing farmer's who have worked hard for their Certified Organic status lose it, or worse, their very livelihoods. If resistant varietals were planted today, Patton explained, it would take three years to see those beans from farm to cup. In three years, many farmers and their families could easily loose their farms.
The crisis is one that pits good intentions regarding sustainability against the need of people who work coffee farms to reap a simple living. Flexibility is especially needed to address this issue for farmers who have worked hard and paid for their Certified Organic status, but who are now suffering for it and are unable to use any other methods to fight the fungus.
Patton also pointed out that investment that focuses on small, independent farms would have the most impact for aiding in recovery when issues like Roya come up.
"The bigger farms who have produced specialty coffee for decades, often have the means, knowledge and resources to better adjust to these types of problems."
Direct Trade roasters, like Patton's Bird Rock Coffee Roasters, are praised for their direct involvement and investment with local farmers, but they also have been criticized for lacking transparency measures required of 'Fair Trade' coffee.
Yet, Direct Trade roasters are often more involved and hands-on. Achieving transparency through social media, some even share the price they pay for beans.
Similarly, they often reward farmers who produce quality varietals by giving them bonuses far above what a Fair Trade cooperative would pay. Other big names in Direct Trade you may recognize include Intelligentsia out of Chicago, Counter Culture Coffee out of Durham, NC, and Stumptown out of Portland, OR.
In the face of a crisis like Roya, certification standards pit one principle of sustainability against the other. In lieu of the research needed to combat and address natural and economic hazards that face sustainable coffee farmers, short-term flexibility in certified standards will need to be discussed.
Without addressing the lack of ability to address this crisis "organically," the systems designed to promote environmental and economic sustainability face a crisis of legitimacy by essentially becoming a tool for economic injustice.