Credit: Scott Eells/Bloomberg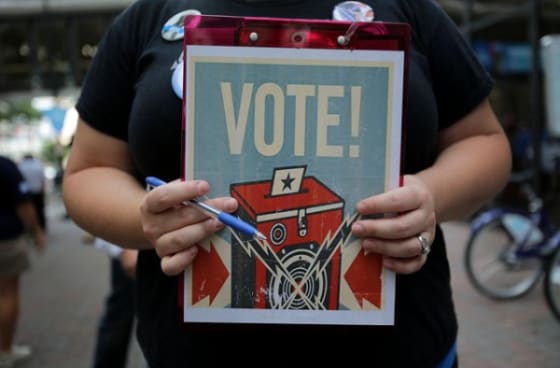 Election laws are continually being changed around the country, some for the best, some for the worst.
Pennsylvania Closed Primary System in Jeopardy
Pennsylvania is one of the thirteen states with completely closed primary elections, meaning that voters need to be registered with a party to be able to vote in the primary. State Sen. Rob Teplitz recently proposed a new legislation that would allow independent voters to vote in either the Republican or Democratic primary by changing their affiliation for one day.
Studies have showed that the current system has disenfranchised thousands of voters as many elections were decided during the primary.
Analyzing 153 municipal races in 2007, 2009 and 2011, the York Dispatch found that 42 percent of them (65 races) were decided in the primary elections. According to the registration record, this means that 18 percent of the population had no say in the outcome of these races.
A previous attempt to change the election law failed in 2008. However, Auditor General Eugene DePasqual, author of the 2008 bill, believes that unless the measure is submitted by referendum, it is very unlikely going to be adopted.
Virginia Ends Mandatory Prison Gerrymandering:
On March 20, Virginia Governor Bob McDonnell signed into law a bill that will end a state requirement that forced local governments in practicing prison gerrymandering. HB 1339 lifts the ban that prohibited local government from excluding prison population for redistricting purposes.
In Virginia, many counties, cities and towns that had correctional facilities were under the obligation to use the Census' figures with no flexibility to correct the inequalities it could cause.
The federal census counts prisoners at their place of incarceration and not at their last known address. This results in giving prison districts more weight in state affairs than they really deserve and some citizens a stronger voice than other citizens.
Virginia was one of the rare states to still prohibit local governments from avoiding prison gerrymandering.
DOJ: Judge Was Wrong to Deny Indian Election Offices in Montana
Attorneys from the civil rights division of the U.S. Department of Justice filed an amicus curiae in front of the 9th Circuit Court of Appeals, in which they contend that a federal judge was wrong is refusing to establish satellite election offices in three Montana reserves in the 2012 elections.
The 9th Circuit Court of Appeals is hearing a case on the issue of the difficulties that some tribal members face reaching election offices, which puts them at a disadvantage. The remoteness of some reserves makes it necessary to travel far to reach county courthouses for early voting and late registration.
U.S. District Judge Richard Cebull's ruling was based on the fact that their was no evidence that Indians were being prevented from voting for the candidates of their choice. The attorneys from the DOJ disagree and hope that the ruling will add a victory to the continuing "uphill battle" to overcome a long history of Indian voter discrimination in the United States.
Civil Rights Groups Sue to Stop New Voter Registration Rule in Iowa
Last week a new electoral rule took effect in Iowa, allowing the secretary of state to remove people from the voter registration lists if their citizenship is questioned.
Secretary of State Matt Schultz now has the power to run Iowa voters registration lists through the Systematic Alien Verification for Entitlements (SAVE) program.  SAVE compiles information from a dozen federal government databases about immigrants with temporary work or school visas, naturalized citizens, those in the process of deportation, and others.
If a registered voter is found to be on the SAVE list, proof of citizenship has to be offered within 60 days. Failure to do so would result in being removed from the voter registration list. Matt Schultz claims the change was needed to reduce voter fraud.
The lawsuit filed by ACLU Iowa and the Iowa League of United Latin American Citizens argues Mr. Schultz exceeds his power as only a bipartisan commission has the authority to maintain voter registration lists. ACLU also contends that the databases chosen were not meant to cross check voters and have insufficient data to do so comprehensively.