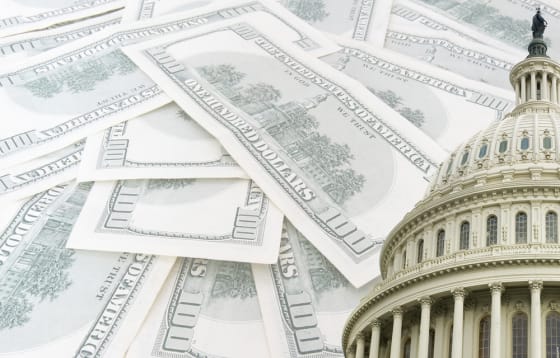 US Capitol Building / Shutterstock.com
In the highfalutin world of campaign finance and election spending hybrid Super PAC's are becoming more popular. Although they've been legal ever since the 2011 court decision in Carey v Federal Elections Commission (FEC), hybrid Super PACs are cropping up with surprising frequency.
Before the case was decided organizers needed to create two separate political action committees. One PAC which can donate to candidates (up to $5,000) and a separate, Super PAC, which is not able to donate directly to candidates but can raise and spend potentially unlimited funds as long as it was done free of 'coordination' with campaigns.
By creating an additional, segregated bank account, known as a 'Carey' account, a normal PAC can become a hybrid Super PAC. As long as funds from each account are used in their respective purposes, running both operations under one tent is legal.
Hybrid Super PACs were thrust into the lime-light briefly during this month's Conservative Political Action Conference. DB Capitol Strategies, the campaign finance law firm that represented Carey in Carey v FEC, was criticized for advertising its services at the conference and quickly rebutted the story.
According to FEC records, there are 67 such PACs in operation, about 45 percent of which did not exist before 2012.  The most recent addition is Stand with Rand PAC. The Center for Public Integrity reported that Stand with Rand PAC's founder and treasurer, Bill Willenbrock, was enticed by DB Capitol Strategies' concept. Starting the PAC in order to "educate the public on conservative principles."
Another recent addition to the switch hitting political committee team is a Texas based PAC, Texans for a Conservative Majority, which was formed at the end of February.
Exploding in popularity after the Citizens United court case in 2010, Super PAC's alone spent almost half a billion dollars in the 2012 election, according to the Wall Street Journal. Critics of the Carey v FEC decision contend that the requirement that Super PAC's remain 'independent' of candidates is usurped by allowing one organization to run both operations. Ultimately making a bad situation worse for money corrupting politics.
Conversely, many feel the requirement that an entirely separate organization be founded and operated presents an unnecessary burden on political groups. While making it impossible to adhere to a maze of complex and unclear government regulations.
In either respect, there remain significant hurdles for the FEC to overcome when considering how to ensure 'independent' expenditures on elections remain both independent and transparent. Both aspects are necessary to afford the public stronger tools to decide for themselves, which causes are worth their votes.