Credit: Grossmont-Cuyamaca Community College District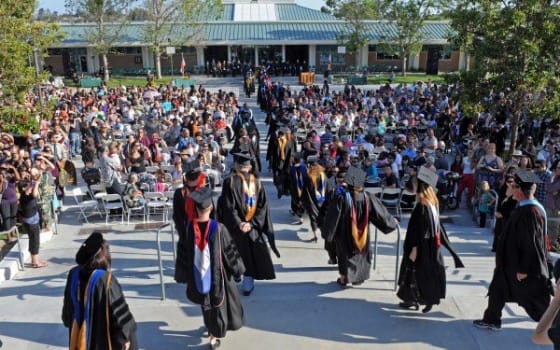 California is renowned for its community college system, but its budget, along with other forms of education, has been reduced significantly. The difference for community college is that cuts have led to a steady decline in enrollment, limiting access to higher education.
A study from the Public Policy Institute of California (PPIC) looked into the effects of budget cuts on community colleges. Since 2008, courses offered and enrollment decreased by 21 percent for Fall/Spring terms, and 60 percent for Summer sessions. It's the lowest the statistics have been in 20 years. Tweet study: Tweet
In years past, when state funding dropped, local funds were able to make up for some of the losses. This is not the case in present day:
Credit: Public Policy Institute of California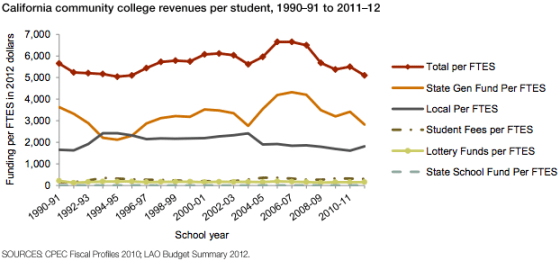 The study also points out that from 2008 to 2011, the number of high school graduates rose by 9 percent, but the number of first-time community college enrollees dropped 5 percent. It's not the case of increased acceptance for universities because the numbers are "coupled with the declining enrollment rates of recent high school graduates at UC and CSU."
The relationship between state funding and tuition fees covering the cost of higher education was discussed earlier on Progress Report. It was found that state funding is declining faster than tuition rates are rising. It should also be known that tuition rates have spiked beyond the means of many students.
In the case of California community colleges, tuition fees currently cover only six percent of operation costs. The state as a whole has tuition fees covering about 46 percent of operation costs. Because of this reality, community colleges are affected much more by cuts since they're not offset by increased tuition.
The California State Legislature sets the tuition rates for community colleges. The current price is at $46 per academic unit, a $26 per unit increase from 2008.
Further raising of tuition on community college could be a possible solution, but would detract from the purpose of the institution. A higher asking price could drive enrollment even lower, since the community college system is intended to be a cost-effective route to higher education.
Class sizes have increased from about 27 to 32 students per class section. Increasing sizes can help mitigate enrollment limitations, but current sizes are at a 20-year high. The student-to-instructor ratio is also at an 11-year high.
Earlier this week, Sarah Bohn of PPIC was on KQED, northern California's public radio station, discussing the report.
The trend of limited access to community colleges should change in the near future with the passage of Proposition 30. Should state revenues increase as predicted, so will the opportunity for enrollment.
State funding for higher education is more important than ever; it's the path to many of today's well-paid jobs. It may seem like the same tired story about the detriments of education funding, but community colleges are intended to be the most accessible route of higher education.
The positive aspect is that the state of higher education has nowhere to go but up. However, it's unclear if it can return to its pre-recession state in the near future.