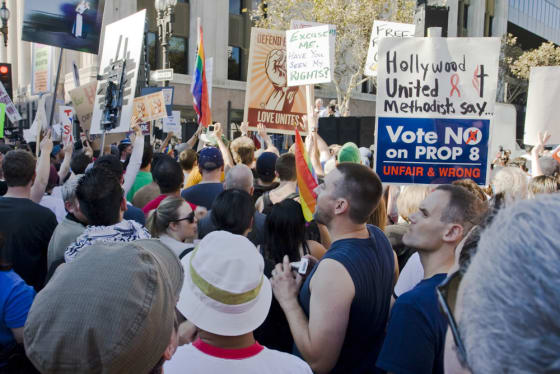 Gerry Boughan / Shutterstock.com
Surrounding oral arguments held this week regarding the Defense of Marriage Act (DOMA), support for same-sex marriage has grown not only by the number of people, but spending as well. A Pew Research Poll found a dramatic crossover in support for marriage equality last week:
"The new survey by the Pew Research Center, conducted March 13-17, 2013 among 1,501 adults nationwide, confirms that these figures have crossed, with 49% supporting same-sex marriage, and 44% opposed."
Support for same-sex marriage is at an all-time high, with independents and Democrats nearly tied at 57 and 59 percent, respectively. The percent of Republicans supporting same-sex marriage remains low at 27 percent, but has jumped nearly 5 percent since 2003.
As public opinion has grown to favor same-sex marriage, advocates of the Defense of Marriage Act have been unable to compete with the overwhelming spending from marriage equality groups.
The National Organization for Marriage, the Family Research Council, and the Christian Coalition, three of the most outspoken groups that have lobbied for DOMA, have been thoroughly outspent by pro same-sex marriage organizations.
The Sunlight Foundation released findings Wednesday showing the significant spending gap between pro and anti same-sex marriage groups.
"Since the late 1980s, pro-gay rights Human Rights Campaign has generated more than $18 million in campaign contributions and spent more than $21 million lobbying Congress. That compares to $4.3 million in campaign contributions and $112,000 in lobbying expenditures by the National Organization for Marriage, the leading organization on the opposing side of the debate."
The comparative pennies in direct lobbying against gay marriage is evidenced by the scores of notable CEO's who have reached into their deep pockets to promote gay rights. Business mogul's like Jeff Bezos of Amazon, have donated millions to gay rights advocacy or even founded their own Super PACs to push the issue in various state ballot initiatives.
These findings highlight the Respect for Marriage Coalition's recent million dollar media campaign aimed at promoting same-sex marriage.
http://www.youtube.com/watch?v=wmPH-dOVG6E
The $150,000 ad buy (featured above) illustrates the significant spending to repeal DOMA by pro-gay rights groups. Conversely, Family PAC, with only about $57,000 on hand -- according to FEC records -- opposes a bill in the Illinois Legislature which would allow same-sex couples to marry.
Spending on a national scale, in opposition to same-sex marriage, hardly compares to the well-financed, million dollar campaigns run by a diverse group of civil and gay rights organizations. Nevertheless, social attitudes remain narrowly split, but prevailing tides may push support for same-sex marriage even higher.