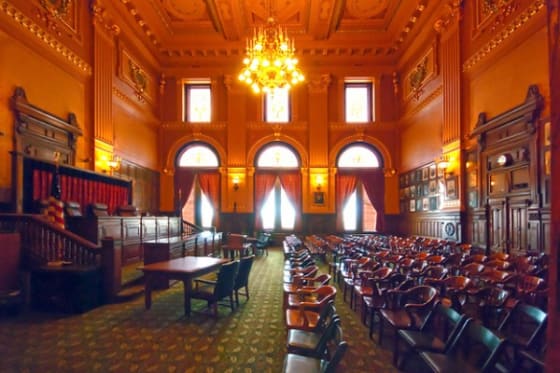 Indiana Supreme Court, photo credit: Phil Jern, flickr.com
The Indiana Supreme Court ruled on Tuesday that the state's school voucher system is constitutional. The voucher program, called the Choice Scholarship Fund, was brought to the court in 2011 by a group of teachers, parents, and public school advocates.
Last week, Progress Report looked into the details of school choice and voucher systems, and touched on recent cases in Alabama and Louisiana.
The Indiana school voucher system is less restrictive than other states. Vouchers are granted so long as families meet the socioeconomic qualifications.
Families of four earning less than $42,000 annually can qualify for aid up to 90 percent of private school costs. The same family size can receive aid for up to 50 percent of costs when earning $42,000 to $62,000 annually.
Ohio and Washington D.C. have their own systems, but require applicants to come from underperforming public schools.
The connection can be made that school vouchers are government funding to pay for private school. Some private schools are also religious in nature, prompting the argument that tax dollars shouldn't fund them.
The plaintiffs claimed that two state laws, with a separation of church and state purpose, are violated by the Indiana school voucher system.
Article 1, Section 6 of the state constitution says, "no money shall be drawn from the treasury, for the benefit of any religious or theological institution." However, the Indiana's judicial branch explained:
"The court emphasized that Indiana's Constitution does not intend to prohibit religious institutions from receiving indirect government services, 'such as fire and police protection, municipal water and sewage service, sidewalks and streets,' but only prohibits expenditures directly benefiting such institutions." "The direct beneficiaries of the voucher program are not the schools but those eligible families who are free to select which schools to attend."
The second law that was said to prohibit the voucher system is Article 1 Section 4. It states, "no person shall be compelled to attend, erect, or support, any place of worship, or to maintain any ministry, against his consent."
The response in the court opinion stated that the law's language is intended to prohibit government from forcing religious practice in the absence of consent.
State Superintendent Glenda Ritz was one of the original plaintiffs in the case, but removed herself leading up to the 2012 elections. She won her seat in the last election cycle against Tony Bennett, who was a defendant. She is now considered a defendant in the case due to her position as superintendent.
The court's decision to uphold the Indiana school voucher system was unanimous (5-0). Indiana has the broadest voucher system of any state in the nation. Since the law was passed in 2011, $38 million was directed to the voucher program.