Former Governor Mark Sanford (Left) and Elizabeth Colbert Busch (Right)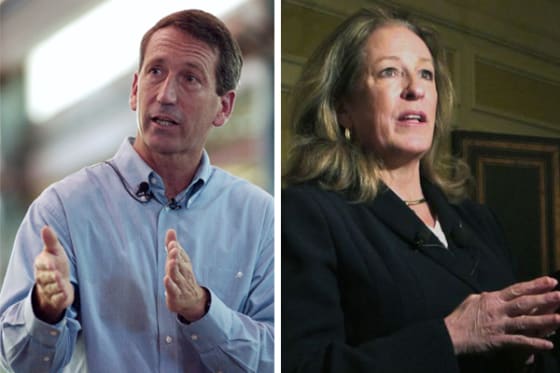 The cascade of appointments following Jim DeMint's (R-SC) abrupt departure from the U.S. Senate prompted a special election for the state's first congressional district after Governor Nikki Haley appointed Tim Scott to fill DeMint's empty seat.
Results of a crowded and expensive Republican primary were released Tuesday. Former state governor and representative of the district, Mark Sanford, came out ahead with 37 percent of the Republican vote. [Figures are not yet official]
Former Charleston county councilor, Curtis Bostic, placed a distant second and is slated for a run-off with Sanford on April 2. Spending for the Republican primary alone has sent expenditures into the millions of dollars.
Elizabeth Colbert Busch won the Democratic primary handily, with 96 percent of the vote. She will likely face Sanford in the final election and may get an upset victory in April.
Despite being favored to win the congressional seat, Sanford is still shadowed by his very public 2009 affair with Argentine journalist, Maria Belen Chapur, to whom he is now engaged.
Clearly an easy target for attacks, Colbert Busch has refrained from going negative. Instead, she has emphasized her experience as the director of business development for Clemson University's Wind Turbine Drive Testing Facility.
Placing jobs as the central pillar of her campaign platform could turn out to be a winning strategy in a state with an 8.6 percent unemployment rate (above the national average), according to the Bureau of Labor Statistics. Tweet it: Tweet
Colbert Busch has also proven to be a very strong fundraiser. In a few months of campaigning, she's been able to close in on Sanford in terms of funding, in part due to the 'Colbert-bump,' referring to the star power associated with her brother and comedian-anchor, Stephen Colbert.
Her most recent ad buy echos the jobs theme and aired last week:
http://www.youtube.com/watch?v=kPKv0FbY9_k
According to the FEC, each candidate has raised over $300,000 as of late February, but Sanford remains ahead. Interestingly, independent expenditure groups like Super PACs have not taken the spotlight.
The bulk of advertisements have stemmed from the campaigners themselves rather than committees that can spend potentially unlimited funds.
Sanford has aired multiple ads, several of which allude to the 2009 scandal, but all seek to paint the former governor as the most 'conservative' when it comes to government spending. The Sunlight Foundation reports that Sanford has spent a combined $170,000 thus far on three television ads like the one below:
http://www.youtube.com/watch?v=vHtMayWy0ks
Being the most conservative is a key benefit in a district where over 60 percent of voters elected former Republican representative Tim Scott in 2010 and again in 2012. Similarly, South Carolina's first district has been represented by a Republican since 1981.
Unsurprisingly, the race has been credited as Sanford's to lose, but shaking his well-publicized past will be a challenge, especially when it comes to female conservatives and independent-minded voters.
On Colbert Busch's side, she's biding her time until a clear front runner has been established. As she stated in an interview on MSNBC:
"What we will do is we will sit back and we will wait until the Republicans decide who their candidate is."
Sanford faces a debate with Bostic on March 28, less than a week before Election Day. Colbert Busch faces an uphill battle regardless of the decision on April 2, but her comparable fundraising capabilities should amount to a competitive race for the congressional seat.