A study from the Igarape Institute and the University of San Diego investigated the increase in gun violence in Mexico since 2006. The authors' concluded that recent federal government regulations on arms trade has been "largely ineffective."
Firearms can be purchased in the United States legally, but end up crossing into Mexico illegally. The number of arms smuggled has increased since the late 1990's and is shown in the study.
Here are some key findings in the study:
The percentage of firearms in the U.S. that end up in Mexico is estimated at 2.2 percent. In 1993, that number was at 1.75 percent.
The number of firearms crossing into Mexico was at 235,000 a year from 2010 to 2012. From 1997 to 1999 when the federal Assault Weapons Ban (AWB) was in place, the number was at 88,000 a year.
Based on the quantity of U.S. firearms in Mexico, revenue in 2010-2012 would equate to $127.2 million for manufacturers. The 1997-1999 time frame equates to $32 million in revenue.
According to a 2009 reports, 14.7 percent of smuggled firearms are seized by authorities. Of that percentage, Mexican authorities are responsible for 12.7 percent and U.S. authorities are responsible for 2 percent of firearms seized.
The authors of the study suggest four possible solutions for better policy to mitigate arms trafficking:
(1) The public disclosure of disaggregated gun sales; (2) background checks geared toward identifying straw purchasers; (3) the prohibition of cash transactions in firearms sales in border states; and (4) the creation of a Mexican database of seized firearms.
The following Graph from the study details the correlation of firearms manufacturing, sales, imports, exports, and retail licenses:
Credit: Igarape Institute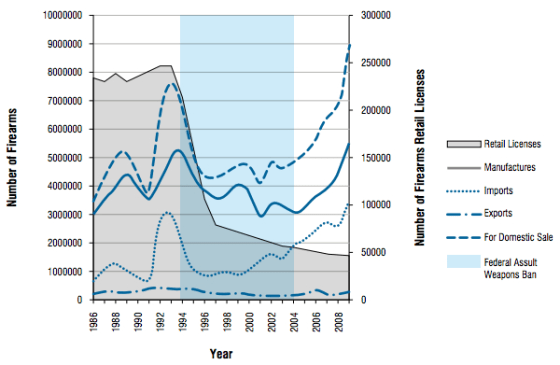 Mexican president Enrique Pena Nieto has shown support for a change in arms trade regulations in the United States. Violence from drug cartels continues to be an issue in Mexico and is fueled, in part, by illegally obtained firearms. Estimates for the number of deaths from drug-related violence in Mexico were around 50,000 by 2012.
The entire study can be downloaded here.