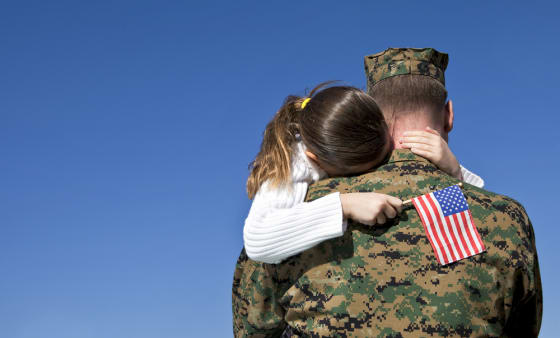 Military father and daughter / Shutterstock.com
I'm sure we can all agree that our military men and women deserve as much appreciation and support as we can give them. What often goes unnoticed are the military families who are also sacrificing a great deal in order for us to continue to be protected.
Children are constantly changing schools, spouses are repeatedly changing jobs, and a stable home life is often nonexistent. It is for these reasons that I am pleased to author Assembly Bill 186, a bill that will help ease the burden on transitioning military spouses as they try to find work within the state.
Specifically, AB 186 seeks to authorize military spouses, who have moved here on active duty orders and who have a valid professional license in another state, to receive an 18-month provisional license in the same profession for which they are applying for licensure. The licensee applicant must provide sufficient evidence of being married to, or in a domestic partnership or legal union with, an active duty member of the United States Armed Forces.
A military family can receive orders to move as often as every two years. According to the Department of Defense, military spouses are ten times more likely to have moved across state lines in the last year compared to their civilian counterparts. This, in particular, poses a difficult problem for spouses of military personnel who work in a licensed vocation such as nursing, cosmetology, or even as a dental hygienist.
A recent study by the California Research Bureau shows California has around 72,500 military spouses residing in the state at any given time. It is estimated that over one third of these individuals are involved in a profession that requires some sort of licensing requirement.
The current process takes many months even after all appropriate documentation has been submitted, fees being paid, and tests taken to receive the license. Often times, potential employees can't even start looking for jobs until their licenses have been received. This has all lead to an estimated 26% of military spouses being unemployed and seeking work—more than three times the national average.
With the implementation of provisional licensing though my Assembly Bill 186, military spouses will be able to immediately look for employment to help support their families while taking all the necessary steps to apply and receive a license from the state.
It is my sincerest hope that we can continue to do everything possible to support our military men, women, and families. Implementing AB 186 is one step in the right direction.