credit: Pete Souza, Official White House Photo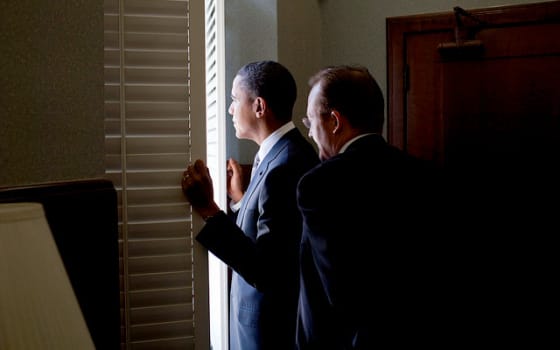 Government accountability watchdog and non-partisan organization, Cause of Action, released their 'Grading the Government' report regarding Freedom of Information Act (FOIA) requests Wednesday. In short, the findings were not so flattering.
From the report:
"What we found was that, overall, the President and his administration continue to fall short of a culture of transparency in the Federal Government." Tweet quote: Tweet
Cause of Action sent dozens of identical FOIA requests throughout 2012 regarding spending on promotional items like plaques and commemorative items.
The requests were sent to sixteen different departments, encompassing 114 offices. Only one agency, the Department of Education, received an 'A;' otherwise the average score was a 'C-.'  The departments of defense and commerce both received an 'F' largely due to poor response time, or inability to comply with requests. Tweet the report: Tweet
The Department of Education had the shortest response time at 27 days. It was the only agency to comply within the 30-day deadline. Tweet it: Tweet
Dan Epstein, executive director for Cause of Action, said of the study:
"What Grading the Government shows is an inconsistency at best, and a failure at worst, by federal agencies in not just compliance with the President's pledge for transparency, but compliance with basic FOIA protocol."
The 'president's pledge' Epstein mentioned is Obama's 2009 statements surrounding his administration's approach to FOIA requests. Upon taking office, the president said:
"The Freedom of Information Act is perhaps the most powerful instrument we have for making our government honest and transparent, and of holding it accountable. And I expect members of my administration not simply to live up to the letter but also the spirit of this law."
The government's failing grades when it comes to FOIA requests were also the subject of an Associated Press investigation released earlier this week. Censorship of requests was found to be at its highest rate since Obama took office in 2009. In most cases, the requests were denied on grounds of national security.
Both reports underscore the introduction of the FOIA Oversight and Implementation Act of 2013 by Darrell Issa (R-CA) and Elijah Cummings (D-MD), both of whom are on the House Committee on Oversight and Government Reform. The Obama administration becoming less transparent has been a primary concern for the committee.
A 2012 committee report showed a similar lack of FOIA responsiveness from government agencies, earning a 'C-' average.
As drafted, the bill would increase public access to released documents as well as consolidate the request process to one online 'portal' which exists in partial form at FOIAonline. It would also require agencies that withhold documents to prove why doing so would prevent 'foreseeable harm.'
Compliance with Freedom of Information Act requests is typically a primary measure of government transparency. However, national security remains high on the list of reasons why the government refuses to disclose information requested by its citizens.