Credit: gopusa.com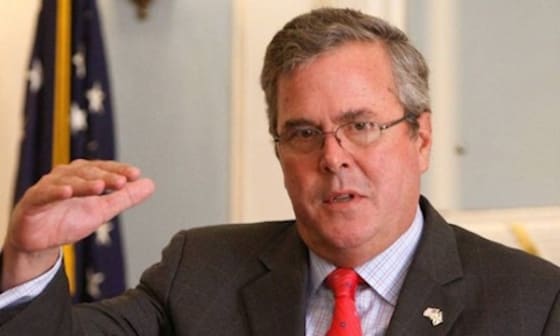 In his new book, "Immigration Wars," George Bush's younger brother, Jeb Bush, differentiates between a pathway to citizenship and legal status, favoring a path to residency over citizenship. The former Florida governor advocated for legal status in the book, contrary to comments he's made before it was published.
Mr. Bush, and his co-author Clint Bolick, wrote that if Congress were to grant citizenship, it would act as a magnet and draw more illegal immigrants to the country.
Currently, the prevailing bipartisan approach in Congress is for a possible pathway to citizenship while strengthening border security. The "Gang of Eight," a group of senators working together on comprehensive immigration reform, is more supportive of granting citizenship to illegal immigrants who arrived in the U.S. as young children and who pursue higher education.
Sen. Lindsey Graham (R-SC), a member of the Gang of Eight, was taken aback by Jeb Bush's book.
"He has been a great voice on immigration, he has been a good governor, understands the Hispanic community. I just think this proposal caught me off guard, and it undercuts what we're trying to do."
Sen. Graham later added how any avenue other than a pathway to citizenship is bound to fail:
"From a political point of view, we've got 55 Democratic senators and 72 percent support for a pathway to citizenship. It's just not practical. We're not going to be able to pass any bill in the U.S. Senate without a pathway to citizenship." Tweet quote: Tweet
In terms of the idea that citizenship will be a magnet, the Gang of Eight explicitly included increased border security metrics as a way to prevent any increase in illegal crossings. Without that or without any citizenship component to a comprehensive bill, the chances of any law passing is dim.
The difference between being granted legal status, or permanent residence, and obtaining citizenship is like discussing the rights between a civil union and marriage.
A citizen has much more rights, the greatest of which is the right to vote. A permanent resident must renew their Green Card every ten years and could lose their status through several means, whereas a U.S. citizen is always a citizen.
Jeb Bush's future aspirations may be closely tied to the 2016 presidential election. There is a strong need for the Republican Party to affiliate more closely with the Hispanic population.
Mr. Bush is one of the Republican voices that has a better understanding of the Latino vote. Jeb Bush earned a degree in Latin American Studies and is an advisory member of the Hispanic Leadership Network.
In a Washington Post op-ed from over a year ago, Jeb Bush referred to the Hispanic voting bloc as "the most powerful swing voters." He framed the Republican point of view as an economic issue foremost:
"We need more people to come to this country, ready to work and to contribute their creativity to our economy. U.S. immigration policies should reflect that principle. Just as Republicans believe in free trade of goods, we should support the freer flow of human talent." Tweet quote: Tweet
Immigration has been a hot button issue in the past few election cycles and is sure to remain so in the 2016 presidential election.
The Gang of Eight contains several high profile Republicans who have high level aspirations. Sen. John McCain (R-AZ) was the 2008 Republican presidential nominee and a member of the committee. Sen. Marco Rubio (R-FL) is also on the Gang of Eight. Like Bush, Rubio is also from Florida and a possible candidate in three years.
"Immigration Wars" may have been a surprising twist in the immigration debate, but it does not abide by the framework and principles set forth in the congressional Gang of Eight talks.
In discussing the book, former governor Jeb Bush never said he was opposed to immigration reform; he just took a different stance on it. Ultimately, whatever law that passes will require bipartisan support.