Credit: Chicago Tribune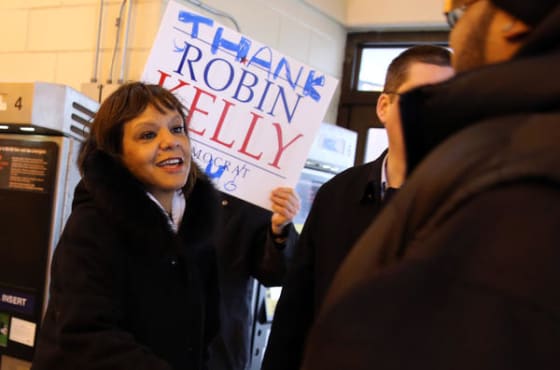 There has been some recent controversy in Illinois' second Congressional District. Former Representative Jesse Jackson Jr. (D) was indicted for stealing $750,000 from his own campaign funds and using the money to purchase personal items such as memorabilia from Michael Jackson, Bruce Lee, and Jimi Hendrix, home furnishings, a $43,000 Rolex watch, and more.
Jackson plead guilty to charges involving mail fraud, wire fraud, and making false statements. He faces potential jail time of up to 5 years and is expected to pay $10,000 - $100,000 in criminal penalties.
A special Democratic primary election was held to fill the vacant House seat. One of the frontrunners, former congresswoman Debbie Halvorson, has a unique history regarding gun laws. In previous elections, she was endorsed by the NRA's Political Victory Fund (NRA-PVF).
In fact, Halvorson received an "A" rating from the NRA, marking her as a solid ally and a "pro-gun" candidate. She has changed her stance since then, however, essentially "backing away from the controversial gun group." This did not deter her from the conflict that would ensue, though.
With shootings dominating news headlines and Chicago's notorious history with gun violence, Robin Kelly, the other frontrunner, took full advantage. Roughly $2 million was spent on ads targeting Halvorson on her previous association with the NRA. The issue here does necessarily lie within the money itself, but rather where it came from.
New York Mayor Michel Bloomberg's super PAC, Independence USA PAC, "has spent more than six times as much as the campaigns of the five actual candidates -- about $3.5 million compared to a combined $573,000 by the campaigns."
$1.9 million was spent on attack ads, while another $1.5 million in independent expenditures was used to support Kelly. The goal was to elect a a pro-gun control candidate to Congress.
The results proved staggering. In a landslide victory, Kelly received 51 percent of the vote in a field consisting of 16 candidates. Halvorson was the runner-up, receiving only 23 percent.
Even though this was only a primary election, Kelly is expected to easily win the April 9 special general election because the district remains overwhelmingly Democratic. Also, the GOP primary winner, Paul McKinley, is an ex-convict with six felony counts.
While money is not the sole reason Kelly won, it may still concern some citizens that an entity outside Illinois had such a major impact on this election. It raises the debate over money in politics, and whether or not groups such as Independence USA PAC should be legally allowed to partake in such elections.
In Illinois' second Congressional District, trust and accountability in governance might be hindered even further despite the fact that the general election is still a few weeks away, perpetuating the stigma of "Chicago Politics" that plagues the area.