Left - Monica Garcia, photo credit: latimes.com / Right - Steve Zimmer, photo credit: jewishjournal.com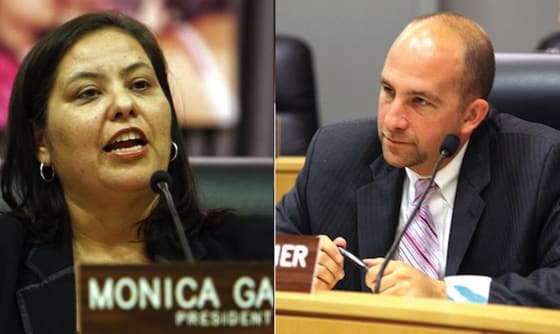 Covered earlier this week was the campaign spending of the Los Angeles Unified school board election. The three races totalled around $5 million in outside expenditures, making it the most costly LAUSD board election. However, not every candidate that had the most money won.
Candidates who receive 50 percent plus one of the vote in the primary are declared winners. If not, the top-two candidates advance to a runoff election in May.
Current LAUSD board president Monica Garcia maintained the district-two seat with 56.03 percent of the vote against four other opponents. She campaigned with around $300,000 more than her opponents and $1.4 million from outside spending.
Arguably, the most important race was between incumbent Steve Zimmer and challenger Kate Anderson for the district-four seat. Zimmer has been opposed to certain measures such as charter conversions, leading to the school reform movement supporting Anderson.
Anderson had $700,000 more than Zimmer in outside expenditures and raised $170,000 more in contributions. However, Zimmer won the head-to-head race by obtaining 52.1 percent of the vote.
Board member Steve Zimmer said he will continue to challenge Superintendent John Deasy on school reform measures. Zimmer does believe Supt. Deasy is right for the job, though. In his Los Angeles Times election profile, he stated:
"With a leader as powerful, urgent and brilliant as John Deasy, a moderating influence becomes more important. He could become a little bit dangerous in terms of any one person wielding that much power."
The race for LAUSD's district-six seat will continue to a runoff election. Candidate Antonio Sanchez's campaign outspent opponents by well over one million dollars, but received 43.15 percent of the vote. Candidate Monica Ratliff came in second place with 34.12 percent of the vote. Ratliff ran with around $15,000 in contributions and no independent expenditures.
The Coalition for School Reform was the largest contributor to independent expenditures for the LAUSD races. The organization ran a slate campaign to support Garcia, Anderson, and Sanchez.
Despite the large amounts of money spent on the March 5 primary, voter turnout was low. About 16 percent of registered Los Angeles voters made it to the polls to elect local leaders.
Los Angeles municipal primary election results can be viewed here.