After a year long study analyzing eight major news events, Pew Research solidified what many have known for a while: sentiment expressed on Twitter does not express "public opinion." Share the study: Tweet
Reactions on Twitter, according to the recently published study, are much more negative:
"The overall negativity on Twitter over the course of the campaign stood out. For both candidates, negative comments exceeded positive comments by a wide margin throughout the fall campaign season. But from September through November, Romney was consistently the target of more negative reactions than was Obama." 
"The overall negativity on Twitter over the course of the campaign stood out." - Pew Research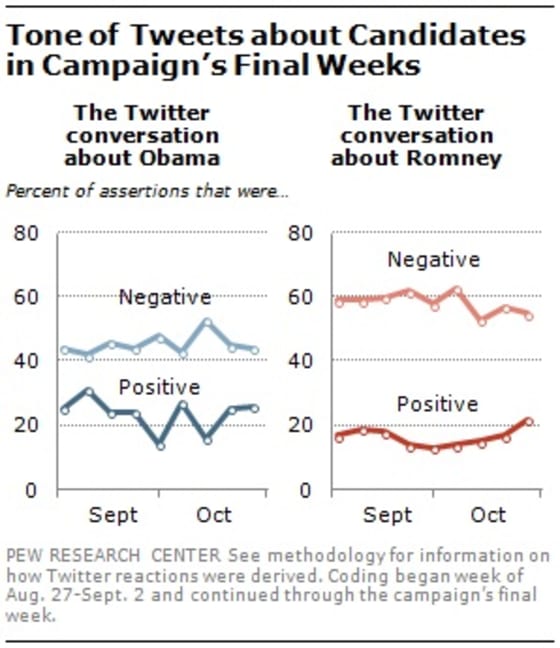 What is it about Twitter that makes us so negative? Tweet it: Tweet
As we see in users hiding in all corners of the Internet, anonymity is empowering. The distance placed between Twitter users and the users with which they engage is paramount in the analysis of online behavior.
While national polls share the same sense of anonymity, respondents are not directly communicating a message to a dynamic audience. Twitter is a platform, while national polls are unidirectional questionnaires.
Empowered by their freedom of speech, Twitter users can express their political opinions without fear of backlash, as made evident in the first presidential debate of the 2012 election. Tweet it: Tweet
Back in October, Pew reported that most voters favored Mitt Romney's debate performance, with 66 percent of registered voters saying Romney did a better job. Twitter, however, provided contrasting data than the national poll, with 35 percent of opinions leaning Obama's ways.
User demographics on Twitter vary greatly from national polling requirements. Data includes sentiment from Twitter users of all ages and in countries around the world.
Titled "Twitter Reaction to Events Often at Odds with Overall Public Opinion," Pew's study bases its analysis on the assumption that public opinion, as expressed by polling data, is accurate.
While it may be true that Twitter sentiment should not be confused with "public opinion," polls are arguably just as misrepresentative. Based on results from a three day interview process, surveying 1,511 adults living across the U.S, Pew came to the conclusion that public opinion favored Mitt Romney's debate performance.
Alone, neither Twitter nor national polls can be labeled as "public opinion." As we enter into the next election cycle, pollsters and journalists should take advantage of all mediums used to express opinions in a comprehensive analysis of what really constitutes "public opinion."