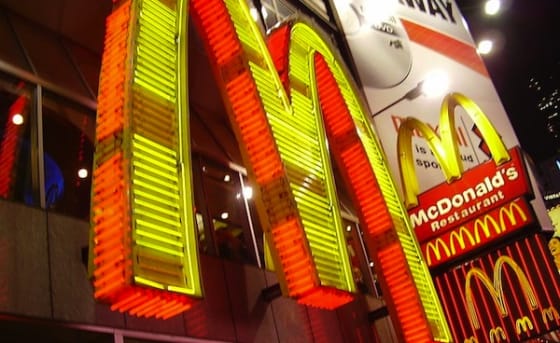 Credit: Business Insider
Are Facebook posts an extension of free speech? The consumer advocacy organization, Public Citizen Litigation Group, adamantly argues that they are and ordering someone to remove comments on the social network violates the First Amendment. Tweet it: Tweet
The controversy is contingent upon a $700,000 settlement made by McDonald's after two locations in Michigan admitted to disguising non-halal meat as halal to Muslim customers. In Islamic culture, certain foods are not permissible to eat and specific methods of preparation are required for halal foods.
"McDonald's from the very beginning stepped up and took this case very seriously," the customer's attorney Dakhlallah said. "They made it clear they wanted to resolve this. They got ahead of the problem."
Some members of the Islamic community, however, were not satisfied with the outcome of the lawsuit, expressing their discontent on Facebook. Dearborn resident and attorney, Majed Moughni, created a Facebook group arguing that the settlement had not given those injured, or those who unknowingly ate non-halal meat, ample time to testify and be involved in the settlement.
While free speech is not without limits, it is a fundamental right outlined in the U.S. Constitution. Limiting such a right would require strict examination of the speech and laws involved. The speech involved in this case was a Facebook post with the following language: Tweet it: Tweet
"We think the money should go to you, the people who were lied to and bought and ate 'Haram' chicken sandwiches, not a medical center or museum who were not injured."
Moughni also wrote that the lawyer involved "wants to pocket $230,000."
The law firm representing the plaintiff classified the post as defamatory for portraying the lawyers in a negative light, bringing Moughni to court.
Wayne County Judge Kathleen Macdonald responded to these complaints by ordering the attorney to not only remove all posts referring to the lawsuit, but to post a copy of the settlement on his Facebook page.
By dictating the content be posted on a personal Facebook page, the ACLU argues that the court has gone too far.
"The court has imposed an overbroad gag order … that chills political speech," said the brief filed by the ACLU. "It compels Mr. Moughni to use his Facebook page as a billboard for the court's preliminary settlement and gag order."
Public Citizen is a non-profit advocacy group based in Washington D.C. speaking on behalf of citizens to ensure representation and restore democracy. In their press release, they make the case that using Facebook to express concern over legal action is integral to democracy.
In this premature "jaw-dropping attack on the First Amendment," Paul Alan Levy, the attorney for Public Citizen, argues that the court has made no attempt to prove Mr. Moughni's claims as false, nor have they proven that he was speaking out of malice:
"Plantiffs in a class-action suit should be allowed to express their disappointment and frustration with what they see as an affront to those they care about," said Levy. "Such expression is a crucial part of a strong democracy." Tweet quote: Tweet
While the need to protect against defamatory speech is prominent in the world of social media, such protection should not come at the expense of free speech.
In your opinion, did the Wayne County Court go too far?