The national graduation rate continues to rise for K-12 schools while the number of schools defined as "dropout factories" is on the decline. While the nationwide trend is positive as a whole, some cities and states are still struggling.
Based on a report published by America's Promise Alliance, the average freshman graduation rate (AFGR) went from 73.2 percent in 2006 to 78.2 percent in 2010. AFGR constitutes a student who completes high school in four years. Tweet stat: Tweet
'Dropout factory' is the informal name for schools with a graduation rate of 60 percent or below. In 2002, there were 2,007 of these schools that served over 2.6 million students. Data from 2010 shows that the number had fallen to 1,424.
The report also states that the U.S. is on pace to reach a 90 percent graduation rate by the 2020 school year. This is good news on a larger scale of student success. However, 30 states are not on pace to meet that benchmark: Tweet stat: Tweet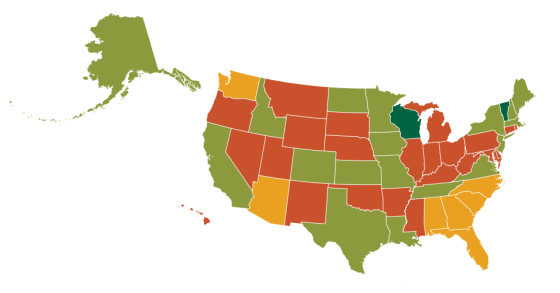 Credit: americaspromise.org

It's no surprise that most of the struggling schools and states have larger portions of disadvantaged students -- low-income families, disabilities, etc. The study argues that the ongoing struggle for schools with sub-60 percent AFGR justifies intervention from the federal government to implement school reform.
The U.S. Department of Education takes this on by granting waivers to states from No Child Left Behind provisions in exchange for reform measures:
"These data also suggest the need for federal policy to maintain and strengthen accountability for raising the graduation rates of low-income students...and students with limited English proficiency."
One federal policy anticipated to help states reach the 90 percent AFGR benchmark is the Common Core Standards. The new curriculum, which goes into effect in 2014, is said to be more focused on getting students "college and career ready." Tweet it: Tweet
Common Core is also the federal government's proposed solution to restoring the value of high school graduation.
Contrary to the nationwide trend, schools in Washington D.C. and Maryland have experienced increases in 'dropout factories.' In the nation's capitol, eleven additional schools had a sub-60 percent AFGR from 2002 to 2011. Maryland had five additional schools under-perform during the same time period.
While Maryland and D.C. are small examples, it highlights the fact that overall national improvement in graduation rates is not improvement for every school. A majority of states are still behind in graduating their K-12 students.
The 90 percent graduation rate benchmark for 2020 was set by U.S. Education Secretary Arne Duncan through what is called the "Civic Marshall Plan."
America's Promise Alliance was founded in 1997 by former secretary of state Colin Powell. The foundation serves as a partnership with several non-profit organizations and education activists. Its "Building a Grad Nation" report is updated annually.
[The entire 2013 "Building a Grad Nation," study can be downloaded here.]