Credit: National Congress of American Indians (NCAI)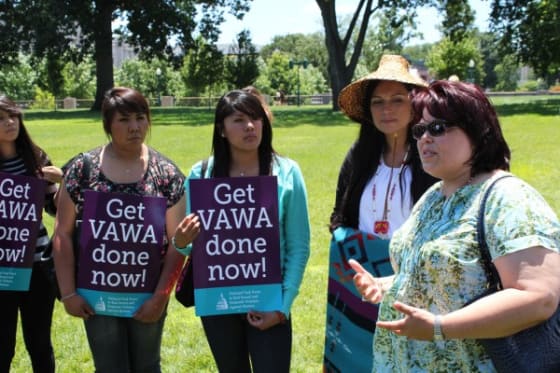 On Thursday, Congress approved the Senate's bipartisan bill reinstating and extending the Violence Against Women Act which expired last year.
Before the bill was brought to the floor, congressional leaders defeated the Republican version, which would have taken away a number of important protections for members of the LGBT community as well as Native Americans.
The GOP version of the bill was expected to fail as many Republicans had voiced their support for the bipartisan bill without any changes and urged House leaders to take a vote on this issue. The reauthorization of VAWA passed 286-138. Share the news: Tweet
The Violence Against Women Act, which was first introduced in 1994, provides certain protections and services to women who are victims of domestic violence and sexual abuse. The new version of the act offers new protections to Native Americans, as well as lesbian, transgender, bisexual women and undocumented residents.
These extensions, especially the provision that would give tribal courts authority to prosecute non-Indians, were opposed by the Republican majority in the House. Since no compromise was made between the House and Senate, the bill expired in late 2012.
On Thursday, in a rare bipartisan effort, elected officials in Washington finally put aside their difference to bring back a bill that provides life saving services to millions of women across the country. Now, all that is needed is a signature by President Obama, who already announced he would do so as soon as the bill reaches his desk.