Credit: easyreadernews.com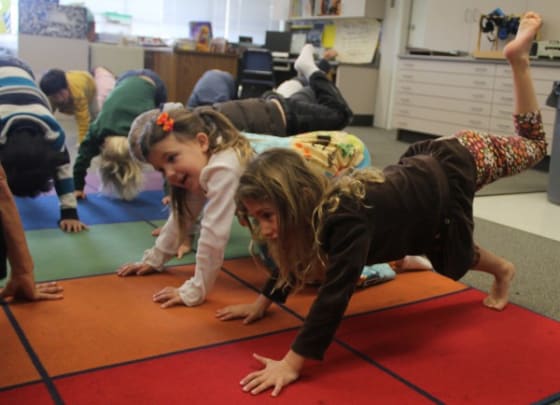 In December, Encinitas-based attorney, Dean Broyles, threatened to file suit against the Encinitas Unified School District for offering Ashtanga yoga as an alternative to physical education. He argues that the program violates the Establishment Clause of the U.S. Constitution. Share article: Tweet
While many people believed not much would come from the threat, Broyles filed suit last Wednesday in the Superior Court of California in San Diego. His services were retained by one concerned family, a young wife and husband with two children currently attending EUSD schools.
To avoid redundancy, Broyles argues that the implementation of EUSD's Ashtanga yoga program as an alternative to traditional physical education curricula marginalized those of the Christian faith because it promotes Hinduism and its practices.
Attorney David Peck, of Coast Law Group, also has a child attending a EUSD school. In defense of the program, he has taken on the case pro bono and seems impassioned to achieve some form of compromise on the issue.
This past October, almost half of the schools in the district implemented the program, which replaced all forms of physical education. Students do maintain the ability to opt-out of the program, which is then substituted with running or other various physical activities.
According to Peck, parents are also allowed to pick up their children during the set hours of the program. As of this January, the program was implemented district-wide.
"What I have seen thus far, is that Attorney Broyles has set forth an articulate petition," said Peck. "Our firm has done the same, of which we have already gathered one hundred students in a program tentatively called YES, or Yoga for Encinitas Students." Share it: Tweet
Broyles further argues that the implementation of the program neglects students' minimal health needs in accordance with the California Board of Education. Peck finds that this isn't the case because students can opt-out of the program and still get their exercise.
Like most entry-level yoga classes, students were informed of the history of the practice of yoga, which is affiliated with Hindu tradition. As a result of this backlash, the district has gone back and "weighed out its options," weeding out anything that could be interpreted as the establishment of one solid faith.
The district will have to decline the suit based on insurance purposes, which is why Peck is representing the large number of concerned parents.
"A lot of parents are up in arms about this," said Peck. "What we would like to see is some form of compromise. Though we have invited Attorney Broyles to sit down with all parties involved, these invitations have been widely ignored." Tweet quote: Tweet
Though it is closely associated with the Hindu faith, yoga has become a widely-accepted health practice in the US. With a nationwide focus on childhood obesity, yoga is seen as a low impact, stress relieving form of physical activity for students.