Credit: Lincoln Journal Star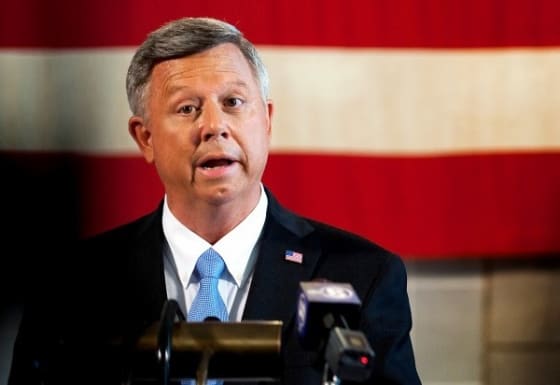 Last Monday, Nebraska US Senator Mike Johanns announced his retirement. A Republican who previously served as governor of Nebraska, mayor of Lincoln, and US Secretary of Agriculture, Johanns won his first and only US Senate race in 2008. Not citing health or frustration with partisanship, Johanns said in a statement co-signed with his wife: "It is time to close this chapter of our lives."
The Republican primary stands to be more competitive than the November election. Republicans hold all statewide offices and all three US congressional seats. Nebraska last voted for a Democratic presidential candidate in 1964. In 2012, a relatively unknown Republican state senator, Deb Fischer, easily won election to the US Senate over Democrat Bob Kerrey, a former governor, US Senator, and presidential candidate.
The following are a few candidates who have signaled or may signal their interest in the open seat:
Governor Dave Heineman
Gov. Dave Heineman ascended to governor after President George W. Bush's selection of Johanns to US Secretary of Agriculture in 2005. He was elected to full terms in 2006 and 2010.
Heineman is the longest-serving governor in the history of the state. As governor, he signed legislation banning abortion beginning at twenty weeks. He also signed one of the biggest tax cuts in the state's history.
With the greatest name recognition of any potential candidate, Heineman would seem to have the easiest path to the nomination.
U.S. House Representative Jeff Fortenberry (1st District)
First elected in 2004, Rep. Fortenberry represents the Lincoln area. He has gained the ire of significant GOP groups such as the Club for Growth and others for his refusal to sign Grover Norquist's "No Tax Pledge."
However, Fortenberry also broke with many in his party in 2008 when he voted against the Troubled Asset Relief Program (TARP). As a conservative Catholic, Fortenberry decried the HHS mandate and has spoken on the House floor in favor of the "No Taxpayer Funding for Abortion Act."
U.S. House Representative Lee Terry (2nd District)
In Washington since 1999 and representing much of the area in and surrounding Omaha, Rep. Terry has largely focused on energy issues, including supporting the Keystone XL pipeline. He was also one of the initial co-sponsors of the "Stop Online Piracy Act," but he eventually withdrew his support.
Nebraska Attorney General Jon Bruning
The favorite to win the 2012 US Senate primary, Bruning came in second to Deb Fischer. Although financed by many national conservative groups and figures, Bruning's campaign was dogged by allegations that he enriched himself while in office, particularly through his relationship with a student loan company.
State Treasurer Don Stenberg
The state treasurer and a former attorney general, Stenberg is a perennial office seeker, running unsuccessfully for lieutenant governor and US Senate several times. He has also indicated interest in running for governor in 2014.