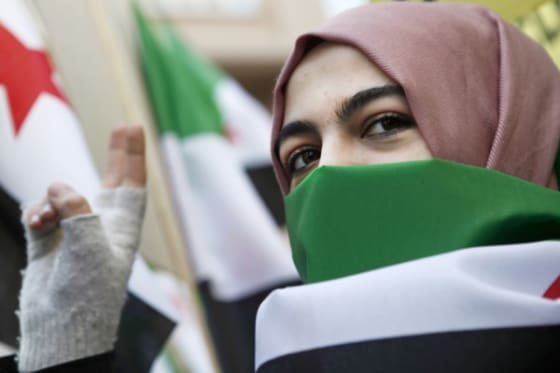 fulili / Shutterstock.com
Behind closed doors, women across the globe are being objectified in the name of war, with sexual violence now a defining factor in the Syrian conflict. The harrowing accounts of sexual abuse and violence, while shielded from the mainstream media, act as a constant reminder of the grave situation in Syria.
According to a January International Rescue Committee (IRC) report, two and a half million Syrians are displaced, with 600,000 who have fled to neighboring countries and over four million in dire need of assistance. Mass displacement, the IRC reports, can be attributed to the deep-seated fear of violence and imminence of sexual abuse. Share the news: Tweet
"We surrendered to the reality of rape," admits a Syrian refugee currently located in Lebanon. Tweet quote: Tweet
In a society defined by conservative principles of modesty and honor, reporting rape comes at the expense of a woman's perceived dignity, honor, and values. Women's Media Center's Women Under Siege Project aims to open the doors behind which women hide by live-tracking the use of sexual violence in Syria.
Incidences of sexual violence are collected and mapped through methods of crowd sourcing, with Facebook, Twitter, and YouTube acting as key players in the aggregation of data. By keeping an up to date tally of ongoing sexual violence in the country now as opposed to later, Women Under Siege is challenging traditional modes of reporting and research.
"Waiting until after a conflict is over to collect this data has all kinds of problems, including the fact that we know many of the victims will be dead and never have the opportunity to speak," Karestan Koenen, an associate professor of epidemiology at Columbia told NPR. 
This is the first conflict where data has been collected in real time, she affirms. Share: Tweet
Women Under Siege live crowdmap.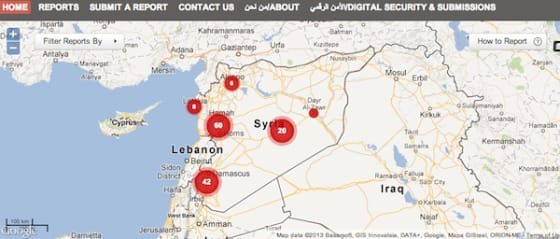 Up until now, the problem with reporting on rape in Syria is the unquantifiable nature of sexualized violence. Because of the stigma associated with rape, victims shy away from reporting their experiences to the public authorities, and when they do, information is limited.
"Data on sexualized violence is limited by a reluctance to report on the part of survivors and ethical and logistical difficulties that restrict its collection on the part of researchers," Tia Palermo writes on the Women Under Siege blog.
What the reports do reveal, however, is that the influx of sexual violence in Syria puts the country at risk of escalating into a humanitarian crisis.
According to the reports, government perpetrators have committed the majority of sexual violence in Syria, reflecting the risk of systemic violence and a lack of a governing body to prevent future acts of violence. While the majority of reports include female victims, Women Under Siege finds that men are suffering too, with one in five reports involving male victims. Tweet stat: Tweet
"This is my message to the world: Let all the world hear what is happening to us," a woman from Homs, Syria proclaims in her account.
While the Syrian government continues to bar journalists, researchers, and aid workers from the region, Women Under Siege provides a powerful platform to the once muted victims in Syria. Through the use of social media crowdsourcing, these messages are not only being heard, but are being shared.