Credit: ascportfolios.org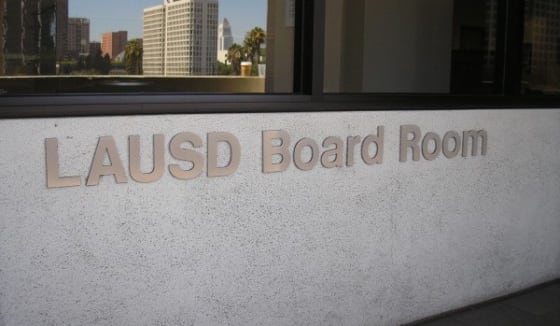 While the election season is over for state and federal races in California, it isn't over for municipal elections in the city of Los Angeles. Three seats up for election on the Los Angeles Unified School District (LAUSD) Board, in particular, are drawing attention because of an unprecedented amount of outside spending.
Based on disclosure reports published by the City Ethics Commission of Los Angeles, more than $2.5 million has been spent by outside organizations for the three school board races. Tweet at LAUSD: Tweet
In contrast, $4.7 million in total independent expenditures was spent during the 2011 municipal election cycle for four school board seats.
In addition to the pace of independent expenditures, New York City Mayor Mike Bloomberg donated $1 million to the Coalition for School Reform. The organization has contributed most to outside spending, thus far, in support of candidates who advocate school reforms such as parent triggers, charter growth, and revamped teacher evaluation. Tweet at @MikeBloomberg: Tweet
Los Angeles Mayor Antonio Villaraigosa was the active figure in securing Mayor Bloomberg's donation. Villaraigosa said Bloomberg is "the most important voice in education reform today."
Mayor Bloomberg's press secretary released a statement saying:
"The mayor [Bloomberg] has said he's going to support efforts and candidates around the country on the issues that he cares about and education reform is one of the issues at the top of that list."
Mayor Bloomberg has considerable influence in education and school reform as his mayorship resides in the largest school district in the nation. He has pushed for school reforms in New York City similar to those advocated by the Coalition for School Reform.
LAUSD is the second largest school district in the United States, which may become an example of school reform in action. Share the news: Tweet
Credit: ethics.lacity.org (click to enlarge)

In LAUSD's sub-district 2, $707,660 in independent expenditures supported current board president and candidate Monica Garcia. Most of the money was spent by the Coalition for School Reform.
Garcia has also been supported by the AFL-CIO labor union, but is opposed by the United Teachers of Los Angeles (UTLA). Three other candidates in this race have received support from UTLA. However, their combined $20,000 from UTLA has been dwarfed by Garcia's supporters.
Sub-district 4 candidates Kate Anderson and incumbent Steve Zimmer have been supported by $655,090 and $463,306 in outside spending, respectively.
Anderson has been supported by the Coalition. Trustee Zimmer has received support from AFL-CIO and UTLA. This race could turn out to be the most contentious and costly of the three. Independent expenditures are nearly matched and Anderson's supporters are expected to up the ante.
The only candidate in sub-district 6 with independent expenditures recorded is candidate Antonio Sanchez. He has had $696,624 spent on his behalf, but is also supported by the Coalition and labor unions.
The primary election is scheduled for March 5. Candidates who receive 50 percent plus one of the vote are declared winners. Otherwise, the top two candidates advance to a runoff election scheduled for May 21. Share it: Tweet
The amount of independent expenditures recorded two weeks before the primary election in Los Angeles supports the notion that education issues are a high priority. LAUSD Superintendent John Deasy has a record of pushing for school reform measures and the composition of the school board can change the way the city forms education policy.
Los Angeles School Board election spending may change drastically leading up to the primary and possible runoff election. The races for these three seats may result in one of the most expensive school board elections.