FCC Chairman Julius Genachowski  / credit: digitaltrends.com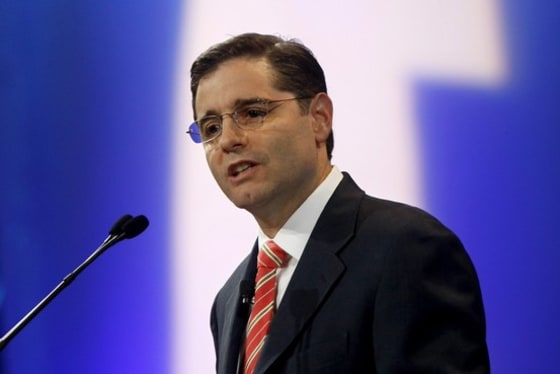 Last month, Federal Communications Commission Chairman Julius Genachowski double-downed on the National Broadband Plan, a plan unveiled in 2010 to improve broadband Internet access nationwide, when he announced the 'Gigabit City Challenge.' Tweet at @FCC: Tweet
The challenge is to create at least one gigabit-per-second municipal Internet community in all fifty states by the end of 2015. In essence, the challenge furthers the NBP's long-term goal of dramatically expanding the nation's broadband infrastructure to support a more competitive and innovative economy.
Genachowski elaborated at the Mayors Winter Meeting:
American economic history teaches a clear lesson about infrastructure. If we build it, innovation will come. The U.S. needs a critical mass of gigabit communities nationwide so that innovators can develop next-generation applications and services that will drive economic growth and global competitiveness. Tweet quote: Tweet
America is currently twelfth in global Internet speeds, according to a world-wide survey conducted by Akami Technologies in 2010. At 4.60 Mbit/s, the United States is lagging behind countries like South Korea, which far surpasses the competition with a 16.63 Mbit/s national average. Tweet stat: Tweet
Though a noble venture, regulatory pot holes and legal road blocks are slowing the ambitious project. Laws similar to HB 282 -- introduced last week in Georgia's House of Representatives -- make it more difficult for government-funded municipal networks to compete with big providers.
Nevertheless, in a statement released Monday, Genachowski points out that the NBP allows for municipalities to construct their own networks independently as well as through public-private partnerships. Additionally he argues that such communities should be flourishing if they're unfettered by legal hoops:
Proposals that would tie the hands of innovative communities that want to build their own high-speed networks will slow progress to our nation's broadband goals and will hurt economic development and job creation in those areas. I urge state and local leaders to focus instead on proposals that incentivize investment in broadband infrastructure, remove barriers to broadband build-out, and ensure widespread access to high-speed networks. Tweet quote: Tweet
The gap between federal and state/local regulatory agendas surrounding broadband infrastructure varies wildly throughout the country. This has inevitably slowed progress on the ambitious project.
However, it could also be a result of the less administrative approach the FCC has taken. By encouraging more private sector involvement rather than strict government intervention, the National Broadband Plan as well as the Gigabit City Challenge might take longer than expected to be realized.