Credit: Gage Skidmore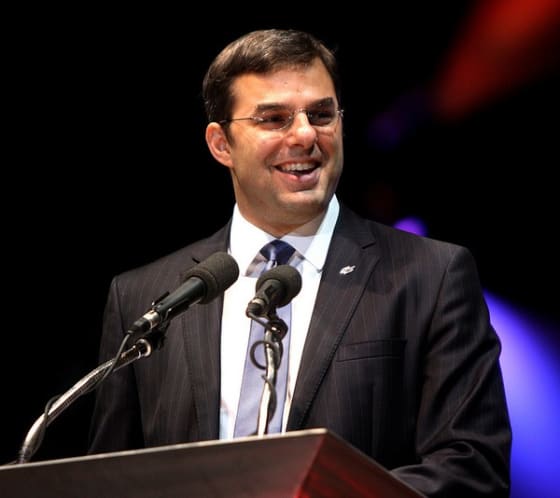 In the U.S. Senate, since winning his first election in 1978, long-time incumbent Carl Levin (D-MI), has not announced his intentions for 2014.
Sources close to National Review Online reported late last week that U.S. Rep. Justin Amash is considering pursuing the seat if Levin retires. According to the NRO story, Levin has less than $250,000 in his campaign account. Tweet at Rep. Amash: Tweet
First elected in 2010, Amash's voting record has mostly lined up with the conservative-to-libertarian wing of the Republican Party. He has voted against Hurricane Sandy relief, against unbalanced budgets, and against congressional pay raises. He also votes against his party nearly 25 percent of the time, one of the higher percentages in Congress. He is often mentioned as Ron Paul's ideological successor in the House.
Amash became the face of an intra-party feud. After the November elections, Republican US Reps. Amash, Tim Huelskamp, Walter Jones, and David Schweikert were all allegedly "purged" from their committee assignments for insufficient party loyalty. Amash and Jones both later voted against John Boehner's retention as speaker of the House.
At only 32, Amash is one of the younger members in the House and is one of the top utilizers of social media. In addition to Twitter, Amash posts every vote on Facebook. In each post, Amash lists the legislation, its title, its number, an explanation of what the bill seeks to accomplish, and why he voted yes, no, or present. Share the news: Tweet
Amash's presence in the Senate might also animate the libertarian wing of the GOP. He would potentially join Kentucky's Rand Paul, Texas' Ted Cruz, and Utah's Mike Lee as the members of the Senate with a libertarian bent. However, a prospective Amash candidacy also faces a few challenges.
Despite his strict constitutionalism, Amash has earned himself negative headlines from people and groups that otherwise would be likely to align with him.
In 2011, when the new Republican-majority House of Representatives voted to defund NPR, Amash voted "present." This elicited condemnation from Fox News anchor Greta Van Susteren, who accused Amash of acting "cowardly" and that he "disenfranchised his constituents."
In Amash's explanation, he voted "present" because the bill was politically motivated to punish NPR after an executive at the publicly-funded station was caught on hidden camera besmirching the GOP.
Similarly in 2011, Amash voted "present" on legislation to defund Planned Parenthood. Although Amash is pro-life, he explained that while he opposes "abortion funding, the language, as drafted, violates my conservative approaching to legislating:"
"Legislation that names a specific private organization to defund (rather than all organizations that engage in a particular activity) is improper and arguably unconstitutional. Moreover, the legislation is easily thwarted because the organization may simply change its name."
The Michigan Republican Party is officially neutral at this point. However, a few GOP operatives are already advising on the contest.
Bill Ballenger, a former Michigan state congressman, told Michigan Live that "[Amash] is a divisive figure, not just in the general electorate, but even within the Republican Party because he's one of the most conservative members and he's a maverick." He went on to say that Amash has "rubbed a lot of people in Republican leadership . . . the wrong way."
Seen by many as Ron Paul's ideological successor in the House, Amash could also potentially shadow the retired congressman in another way. Tweet it: Tweet
In 1984, Paul relinquished his House seat to run for the U.S. Senate. He finished a distant second place to the Phil Gramm. Despite losing only one election once he got to Washington, Ron Paul never achieved a statewide victory in Texas. Likewise, he never won the popular vote in a primary state in either of his Republican presidential campaigns. Although Texas was a state beginning to trend Republican, Michigan has not voted for a Republican for president since 1988.
Amash has made no formal cues himself about a prospective U.S. Senate run and his decision hinges largely on the decision of Carl Levin to run for reelection or retire.