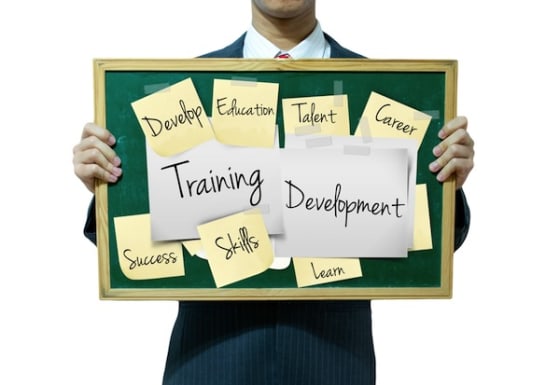 Business man holding board on the background by IdeaStepConceptStock via Shutterstock.com
President Barack Obama outlined his second term on February 12 in an hour long State of the Union. Those with a particular stake in policies that affect the classroom were on-edge when the president dropped the word 'education' during the address. He touched on college affordability, the redesign of high schools, and the expansion of early childhood education.
Early Childhood Education
"Study after study shows that the sooner a child begins learning, the better he or she does down the road. But today, fewer than 3 in 10 four year-olds are enrolled in a high-quality preschool program." "Tonight, I propose working with states to make high-quality preschool available to every child in America. Every dollar we invest in high-quality early education can save more than seven dollars later on." Tweet quote: Tweet
Early childhood education is widely believed to help influence future academic success. However, expanding preschool in fifty states at little or no cost to families is a tall task. The president stated that every dollar invested in early education nets a seven dollar gain for the country. Whether or not the statistic holds true, the initial investment will be costly.
The Center for American Progress (CAP) released a study and policy proposal on the investment of early education this month. The CAP proposed the federal government provide an average of $10,000 per child for preschool education and have each state provide matching funds. CAP estimates that the plan would cost $98.4 billion in a 10-year period. If the seven-to-one return on investment projection holds true, this could be the wisest federal expenditure. Tweet at @CAP: Tweet
College Affordability
"Tonight, I ask Congress to change the Higher Education Act, so that affordability and value are included in determining which colleges receive certain types of federal aid."
The Higher Education Act permits federal student aid for colleges and universities. However, the president stated it's the federal government's job to keep tuition costs down. Tax breaks, grants, and a better loan system came from his list of ideas to increase college affordability and accessibility. Share the news: Tweet
Example of a College Scorecard: University of California, San Diego (click to enlarge)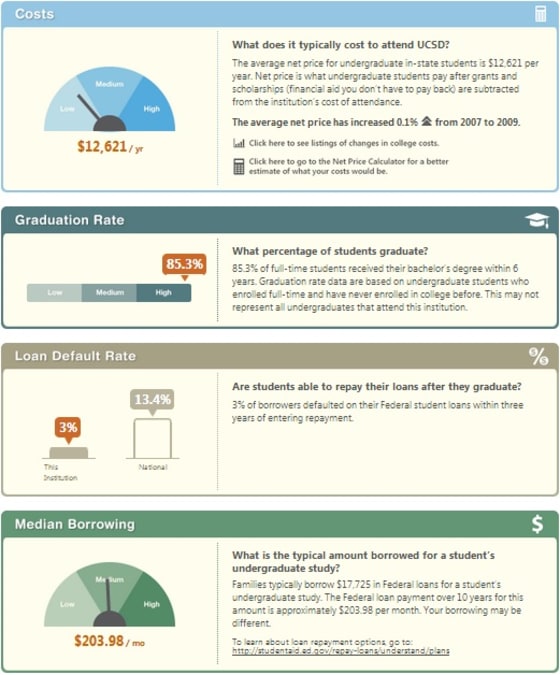 If lawmakers get around to revising the law, holding universities' feet to the fire on tuition costs should be a priority. High-cost institutions may be inclined to make costs competitive if students are driven towards more cost-effective schools backed up by federal funding. Such a scenario depends on how Congress and the president end up revising the act.
The president also announced the College Scorecard, an interactive tool to look at the cost, graduation rate, and cumulative financial history of  universities. Although it was released yesterday, it is still in the works. The scorecard will include the job history of that college's graduates, helping prospective students to make enrollment decisions. Share the College Scorecard: Tweet
Redesigning High School Education
"Tonight, I'm announcing a new challenge to redesign America's high schools so they better equip graduates for the demands of a high-tech economy. We'll reward schools that develop new partnerships with colleges and employers, and create classes that focus on science, technology, engineering, and math – the skills today's employers are looking for to fill jobs right now and in the future." Tweet quote: Tweet
President Obama admitted that the current structure of high schools in the United States is inadequate for a future job market. He pointed towards competitiveness, stating that a US community college education is equivalent to a German high school education. This is a particular call to U.S. schools moving toward career and technical opportunities within STEM fields. STEM occupations are expected to grow 17 percent by 2018.
While the president called for action on certain aspects of education, he did not address the lingering existence of No Child Left Behind (NCLB). Revision and re-authorization of federal education policy have been on the table since 2007. Both the president and U.S. Secretary of Education, Arne Duncan, put forth a revision in 2010, but it did not gain traction with lawmakers.
The relationship between federal and state education agencies has been mixed. The Department of Education has issued waivers from certain NCLB provisions. However, not all educators are fond of being exempt from NCLB.
The federal government has already moved toward revised standards for K-12 education with Common Core curriculum. Forty-five states have signed on already, which reflects a demand for more resources in STEM education. Yet, there is no indication that NCLB would be overwritten with Common Core's implementation. Tweet stat: Tweet
The State of Education
All intentions from the State of the Union address are well and noble, but practicality is what may concern educators. Much of what was proposed on February 12 depends on the cooperation of Congress. The reaction from state and local education agencies and universities will also have impact on policy effectiveness.
Watch and listen to President Obama's comments on the state of education in the State of the Union:
http://youtu.be/pfPYtJMaiQQ