Members of the Jobs Council // credit: whitehouse.gov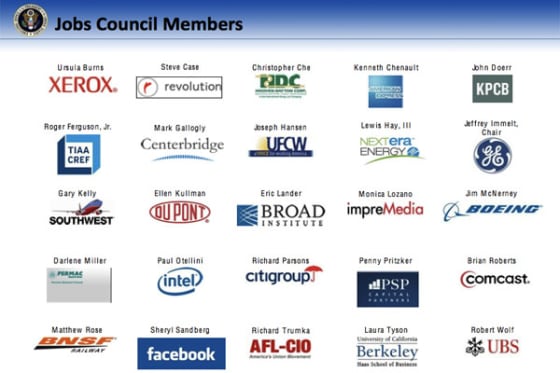 Following news that the President Barack Obama's Council on Jobs and Competitiveness was disbanded last week, unemployment remains at 7.8 percent. Formed during the height of the economic crash in 2010, the council was charged with finding non-partisan solutions to 'catalyze job growth' in America. Tweet the news: Tweet
Although the unemployment rate is undeniably lower than when the council was formed, speculation remains as to whether or not the PCJC was effective at creating jobs, and if renewing its charter for another two years would have been a better course of action.
The council, chaired by Jeffrey Immelt, chief executive of General Electric, only met a handful of times. Four to be exact, three times in 2011 and once in January of 2012. Critics of the decision to discontinue the Jobs Council highlight signs that the economy may have contracted in the fourth quarter of 2012. However, reports from this weekend point to the contrary. Similarly, it is difficult, if not impossible, to gauge what impact recommendations made by the Jobs Council have had on job creation.
The council's 'Roadmap to Renewal,' which was released over a year ago, made 60 recommendations. Fifty-four of which were ultimately realized primarily through executive orders, yet only six out of the 30 recommendations that required legislation were passed by Congress. Several council recommendations were opposed by the White House as well, most notably bypassing the State Department's permit process for the Keystone XL pipeline.
During a press conference, White House press secretary Jay Carney, said of the council,
"The Jobs Council provided a series of ideas, many of which the President acted on.  It did not require a formal meeting for those ideas to be generated or worked on by either the Jobs Council or the administration... And this President's commitment, as a matter of policy, to job creation and economic growth is judged, I think fairly, by outside economists very favorably compared to alternatives put forward by Republicans in Congress whose policies nobody judges, like the Ryan budget and others, would do anything for near-term job creation."
Carney continued by saying that although future efforts to determine policy priorities may be less formal, the White House would expand its outreach to business leaders for input on economic issues. Tweet the news: Tweet
The concept of a presidential commission is nothing new. However, other presidential councils have garnered much less attention than the Jobs Council. Dozens of commissions like, The president's Council on Fitness, Sports & Nutrition (1955-present), the Council of Advisers on Science and Technology (2001-present), and the president's Export Council (1973-present), have existed for much longer with more consistent reporting schedules.
Most presidential councils release multiple reports a year or maintain a more active public presence, but it's likely that 'political sensitivities' were the cause for the council's inactivity during the campaign season.
Since the effectiveness of such commissions is difficult to determine precisely, critics of both the Jobs Council itself, and the concept in general, have drawn attention to growing impatience surrounding the slow economic recovery.