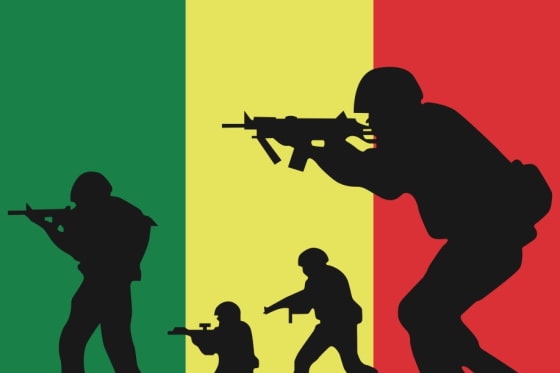 The Mali flag and the silhouette of a soldiers by Paul Stringer via Shutterstock.com
The conflict in Mali will soon take a new path as the French and African troops finish reconquering Kidal, the major town in the North of the country.
On Tuesday night, French Defense Secretary Jean Yves Le Drian announced that Kidal, a town 900 miles north east of Bamako and last held by rebel group, Ansar Dine, has been retaken. The French troops have been in control of the Kidal airport for a few days already and 1,800 Chadian soldiers have secured the town.
Earlier in the week, the French Air Force proceeded to launch massive air strikes in the Tessalit and Aguelhok regions, in northern Kidal. Twenty-five targets were destroyed, including training camps and logistical depots. Following Tuesday's events, the French authorities made their first assessments regarding casualties from the Islamist groups, confirming several hundred rebels dead since the beginning of the intervention. Tweet toll: Tweet
The security of the Kidal region will continue to improve as the French government announced the departure of French troops from Timbuktu for the northern part of the country. Moreover, the Ifoghas Mountains, just north of the Kidal region, are the probable refuge for a number of islamist leaders, including algerian Abou Zeïd, a high ranking member of AQMI, and Iyad Ag Ghaly, a Touareg rebel and chief of Ansar Dine.
The French government also believes that seven French hostages, kidnapped by terrorist groups AQMI and MUJAO in Niger and Mali in 2011 and 2012 respectively, are currently held in the region.
With most of Mali now reconquered, the 'emergency' phase of the military operation is concluding. The Islamist threat has been largely contained to the northern region of the country where it has had a presence for close to a decade. The next phase will likely start in coming weeks. France already plans to slowly begin withdrawing troops, an estimated 4,000 soldiers by the beginning of March, and transmit the reins of the operation to the UN-backed African force, MISMA. Tweet the news: Tweet
The success of this transition remains uncertain. There are some doubts as to the capacity of the African and, more specifically, the Malian troops. Critics are speculative of the African forces' ability to take over where the experienced French military and its more sophisticated equipment left off. Similarly, questions remain unanswered about the funding of the peacekeeping operation, as costs are estimated to be $1 billion. Tweet
Even if the French intervention did prevent Mali from becoming a failed state, neither the threat from the Islamist groups nor the fragility of the Malian state would have disappeared once military force subsided. A long-term plan for dealing with both of these issues will need to be put forth in order to sustainably stabilize the region.