credit: deathandtaxesmag.com
The Federal Elections Commission released findings on Wednesday analyzing filings for congressional and presidential campaign spending during the 2012 presidential election. The data included spending disclosures from Super PACs, presidential and congressional candidates, as well as party committees from January 2011 to September 2012.
Totaling over $5.3 billion when combined with independent expenditures and electioneering communications, the 2012 election was projected to be the most expensive election in American history as early as November 2011. Tweet stat: Tweet
The FEC has now confirmed these projections which were made by groups like the Center for Responsive Politics. Though the release left out the five weeks immediately preceding the election, trends in federal elections spending over the last ten years stand out dramatically; the most notable is that presidential campaign spending doubled in that time period. Tweet stat: Tweet
Spending for congressional campaigns alone has more than doubled since the turn of the century, climbing from just under $630 million in 2002 to over $1.3 billion in 2012. Likewise, the amount of money raised by congressional candidates has essentially mirrored expenditures, rising from $796 million in 2002 to $1.6 billion in 2012. Tweet stat: Tweet
Similar findings were released last week in a report entitled "Billion Dollar Democracy," authored by Demos and the PIRG Education Fund. The non-partisan report highlighted the increasing disparity between small and large campaign donors:
"Candidates for both House and Senate raised the majority of their funds from gifts of $1,000 or more; and 40% of all contributions to Senate candidates came from donors giving at least $2,500, from just 0.02% of the American population. In the 2012 election cycle, 83.9% of House candidates and 66.7% of Senate candidates who outspent their general election opponents won their elections. Winning House candidates outraised major opponents by 108%, winning Sen- ate candidates by 35%."
Alongside the candidates themselves, 'outside' spending has exploded since 2010, thanks in large part to large donors. "More than 93% of the money Super PACs raised came in contributions of at least $10,000," according to the Billion Dollar Democracy report. Tweet stat: Tweet
'Outside' means any election spending not from party committees or in coordination with a candidate. In other words, its primarily spending by Super PACs, 501(c)4 'social welfare' groups, and trade organizations. Spending by these groups accounted for 20 percent of the total amount spent on the 2012 election or roughly $1.04 billion.
Source: Dēmos and U.S. PIRG Education Fund analysis of FEC and Sunlight Foundation data.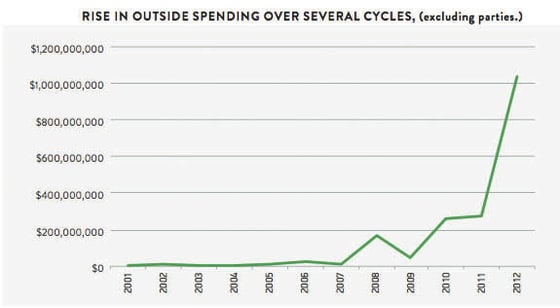 With no limit to the amount outside groups can spend, following the Citizens United decision in 2010, it is likely the exponential trend will continue. Since contribution limits still remain on candidates themselves, currently at $2,500 per individual, Super PACs -- and the media consulting firms they partner with -- stand to profit the most from future elections.