Credit: dcpages.com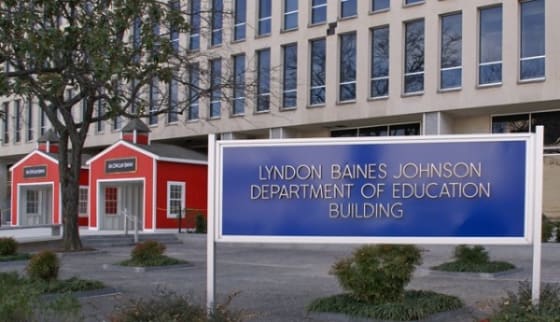 Thirty-four states and Washington D.C. have been granted waivers from provisions of the No Child Left Behind (NCLB) Act. States can opt out of the federal law if it meets certain criteria to advance public education determined by the federal government. The U.S. Department of Education recognizes there are multiple ways to accomplish a common goal: closing the achievement gap. Tweet the news: Tweet
In 2002, the NCLB Act was the reauthorization of the Elementary and Secondary Education Act of 1965 (ESEA). The reauthorization revised ESEA with demographic reporting and national testing standards.
NCLB was set to expire in 2007, forcing legislators to make relevant revisions. However, Congress has yet to act on national education policy. In the absence of a reauthorization or revision, NCLB remains the current policy.
The Department of Education allows states to sidestep the outdated policy through ESEA flexibility or NCLB waivers. However, with the waivers come rules.
In exchange for relief from NCLB rules, states must implement college-readiness standards and account for student performance in teacher evaluations. The department examines whether or not states make adequate proposals in waiver applications.
NCLB would require states to have a 100 percent proficiency rate in federal standardized tests by 2014. At this point, the goal is near unrealistic. Further federal intervention is meant to follow not meeting this goal. However, it is unclear if the outdated law would be enforced. To reiterate, the status of the law can change should Congress act.
Valerie Strauss, education writer for the Washington Post, explains that states avoid one set of provisions by having to abide by another:
"Waivers only provide temporary relief from specific provisions of the law and leave states that face challenges in meeting the reform criteria for obtaining a waiver struggling to meet the unreasonable requirements of NCLB." Tweet
Despite the potential drawbacks of gaining ESEA flexibility, states accept the trade-off to move away from NCLB rules. The Education Department has mapped the status of flexibility requests as of January 29, 2013: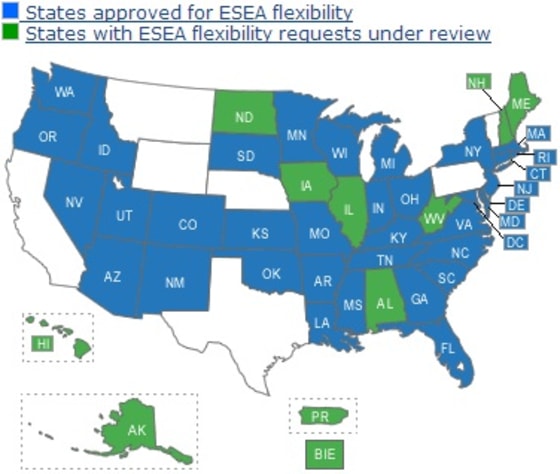 Virginia has recently implemented controversial benchmarks for success rates for student subgroups based on race. Regardless, the state was granted flexibility on the following basis; summarized by the Education Department:
"Requires its low-performing schools to involve an external lead turnaround partner as they craft their school turnaround plans."
"Includes a state monitoring system with built-in data prompts to ensure that a district's chosen interventions are genuinely rigorous and based on student needs."
Indiana experienced a shift in educational leadership when Gloria Ritz upset long-time incumbent Tony Bennett for the seat of state superintendent. Indiana was granted ESEA flexibility for the following provisions:
"School performance data is used to identify existing achievement gaps within a school and how well that school's subgroups are performing compared to the same subgroups statewide."
"Therefore, an otherwise high-performing school's achievement gap(s) are exposed, and the school is targeted for interventions."
California is not among the majority of states granted relief from NCLB. The California Department of Education filed for an NCLB waiver but was denied despite having its own model for measuring student success. State Superintendent of Public Instruction, Tom Torlakson, has frequently expressed discontent for NCLB, calling the policies flawed.
Individual school districts in California are taking matters into their own hands. Although Secretary of Education Arne Duncan has not yet agreed to consider district applications for the waiver, eight districts from the state are ready to make their case.
Ten states are still awaiting a response from the Department of Education regarding NCLB waivers and ESEA flexibility. Puerto Rico and the Bureau of Indian Education have also submitted applications. Currently, there are an estimated 50 million school children who currently attend public schools and are affected by the policies discussed.
The advantage that ESEA flexibility is that states are given more autonomy on education policy. Instead of abiding by a one-size fits all approach, states can set their own educational agenda with a few requirements, of course. Education policies continually attempt to close the achievement gap and the federal officials are moving away from No Child Left Behind. The role of the federal government in education is still to be shaped by the future action of Congress.