Credit: U.S. Army, Sgt. Michael J. MacLeod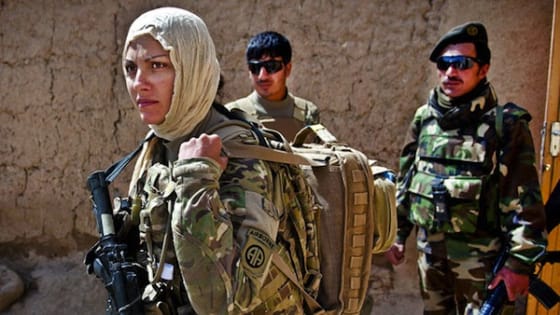 Defense Secretary Leon Panetta and Chairman of the Joint Chiefs of Staff, Gen. Martin Dempsey, announced last week the repeal of the 1994 Direct Ground Combat Definition and Assignment Rule in an effort to remove gender-based barriers in the military.
"There is no distinction that's made between the sacrifices of men and women in uniform," Secretary Panetta said at a press briefing on Wednesday. "They serve, they're wounded, and they die right next to each other. The time has come to recognize that reality." Tweet quote: Tweet
According to the press release, this step follows the February 2012 decision to open more than 14,000 select positions in ground combat units to women.
Historically, woman have been involved in the U.S. Armed Forces from the start. According to the Department of Defense (DoD) Women's History, women mostly held traditional roles such as cooks, laundresses, nurses, and seamstresses, but some women became spies or served beside their husbands (disguised as men) as early as the American Revolution.
According to the Women In Military Service For America Memorial Foundation, women did not receive permanent military status until the Women's Armed Services Integration Act of 1948. It wasn't until 1967 that President Johnson removed legal ceilings on promotions that barred women from the general and flag ranks.
Women currently make up nearly 15 percent of the military's 1.4 million active personnel. Tweet
In November 2012, four servicewomen and the Service Women's Action Network (SWAN) filed a lawsuit to rescind the DoD's combat exclusion policy.
The lawsuit states that as a result of this policy:
"Women are barred from more than 238,000 positions across the Armed Forces, including all infantry positions, and from certain military occupational specialties and training schools. No United States statute requires this categorical exclusion of women. Instead, the DoD has itself decided to close these positions to servicewomen solely because they are women."
Anu Bhagwati, former Marine Corps Captain and Executive Director of Service Women's Action Network (SWAN), a civil rights organization assisting military woman, stated that this move is a victory for equality in the military.
"Women's service in Iraq and Afghanistan set the stage for this. The policy on the books simply did not reflect the reality of women's service," she said in a SWAN press release. "Our recent lawsuit with the ACLU helped to put pressure on the Pentagon to make this sea change, and it's about time." Tweet at SWAN: Tweet
According to a SWAN fact sheet, The Combat Exclusion Policy had previously barred women from nine percent of all Army roles and 30 percent of active‐duty positions, many of which would prepare them for more advanced assignments.
"This will have a positive effect on recruitment and retention efforts," Bhagwati said. "If women feel they can advance and achieve in our military, we are more likely to attract the best and brightest."
Not only will this move allow qualified woman the chance to move through the ranks, better serve their country, and receive the credit they deserve; it may improve military culture as well.
Gen. Dempsey hopes that bringing equality will help to alleviate the high rates of military sexual assault and sexual harassment cases.
"I have to believe, the more we can treat people equally, the more likely they are to treat each other equally," he said. Tweet quote: Tweet
According to DoD, training and development will consist of qualitative and quantifiable standards reflecting the knowledge, skills, and abilities necessary for each field.
"If members of our military can meet the qualifications for a job - and let me be clear, I'm not talking about reducing the qualifications for the job - then they should have the right to serve, regardless of creed or color or gender or sexual orientation," Panetta told the press briefing.
Gen. Martin Dempsey recognized at the briefing that it is possible that some specialties and ratings could remain closed to women after a close evaluation.
"If we see that a particular standard is so high that a woman couldn't make it, the burden is now on the service to come back and explain to the secretary, why is it that high?" Dempsey said at the briefing. "With the Direct Combat Exclusion provision in place, we never had to have that conversation."
According to a DoD memo, military departments must submit detailed plans by May 15, 2013 for implementing this change and integrate women into previously closed positions.  The process is to be complete by January 2016.