Credit: CNN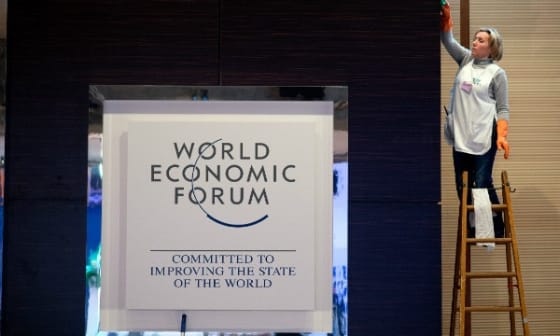 On Thursday, the annual World Economic Forum (WEF) opened and will host 2,500 participants who will listen to leaders from various disciplines such as politics, business, finance, civil society, religion, culture or science. One day after the US military finally lifted a ban on women in combat, the WEF, with its low number of women among the participants and the speakers, is a reminder that we remain a long way from full gender equality. Tweet
A spokesman for the WEF announced that 17% of the participants for the 2013 edition are women. This means, according to Quartz, that in Davos this weekend one will be 66% less likely to encounter a female than anywhere else in the world. Tweet this stat: Tweet
And the gender cap exists among both developed and developing countries' delegations. As noted by Quartz, the US will only send 21% of women when a developing nation such as India will have 17% of women in its delegation.
If the number of women participating at one of the most exclusive events of the year rose from 9% in 2001 to 15% in 2005, it has reached a ceiling of 17% for the last 2 years.
The WEF has already taken steps to reduce the gender gap. In 2011 the forum established a quota for its "strategic partner," a group of 100 companies such as Google, Barclay's, Goldman Sachs, requiring that they have one women in every group of five senior executives who are sent to the event.
However, a number of companies required to respect the quota still prefer sending delegation of 4 men, thus avoiding the need for a women. According to Saadia Zahidi, head of gender parity and human capital at the WEF, "the reasons that we have not yet reached 20% is that some organisations don't have people high enough in their institutions for a woman to be the right person as one of the five delegates."
Even though a record number of women were running Fortune 500 companies in 2012, with 18 CEOs, these women only represent 3.6% of all CEOs. Considering also that only 17 women are currently Presidents or Prime Ministers around the world, it sheds light on the over-representation of Y chromosomes among the world political and economic elite.
However, if change is slow, change is coming. In two communities recently created by the WEF, the "young global leaders" (under 40s) and the Davos "global shapers" (under 30s), the gender distribution is close to 50/50. We will need to wait to see how long it will take for the new generation to climb the ladder of power, and women with it.