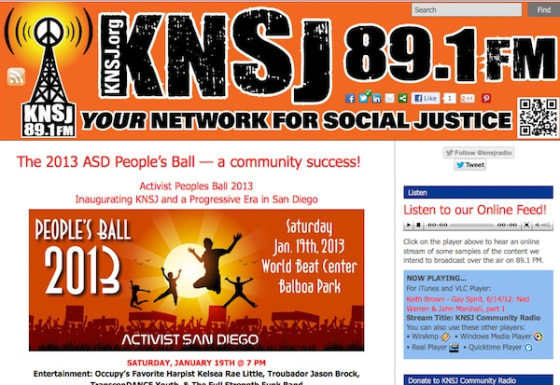 San Diego's only community radio station will lose its FCC license if it cannot raise sufficient funds to broadcast by June of this year. To make a dent in its $10,000 goal, KNSJ 89.1 hosted a gala called the "People's Ball" on Saturday, January 19th.
The People's Ball included musical performances by Kelsea Rae Little, Jason Brock, TranscenDANCE Youth, the Full Strength Funk Band, and a speech by Mayor Bob Filner.
Despite the $8,000 raised at the gala, KNSJ still needs help to reach its monetary goal. Like a true community radio station, KNSJ is counting on the support of the San Diego community to help them broadcast unbiased, nonpartisan, independent media by buying tickets or donating.
In total, KNSJ needs $20,000 to stay on the air for the entirety of 2013. Luckily for the station, a private donor has promised to provide half of this amount if KNSJ can raise the other half on its own. $11,000 is needed for the antennae, $4,000 for its installation, and $6,000 for additional studio equipment.
Activist San Diego (ASD), the nonprofit behind KNSJ, has been the main financial source, but are unable to provide the money necessary to broadcast. KNSJ has applied for grants, but has had unsuccessful results.
KNSJ founder and ASD member, Martin Eder, believes that if KNSJ cannot meet its deadline, reapplication for a signal is unlikely considering how infrequently the FCC lets stations apply to broadcast. The most recent opening for application was in 2007--the first time in 14 years. If the volunteer-run station fails to get on the air, the 89.1 frequency will remain vacant.
"But we're going to meet that deadline. I have tremendous faith that the public will come forward and donate and make sure that we're able to purchase the equipment we need," says Eder.
This kind of community support is what KNSJ was designed to run on. ASD, a nonprofit focused on networking for social justice, decided to apply for an FM signal in 2007 with the intent of creating a community radio station to empower citizen journalists.
ASD applied for two stations: one in Descanso and one in Ramona. The organization secured the license for the Descanso station, but is currently appealing the FCC rejection of the Ramona station.
The FCC promised to make a decision on the appeal in the 3rd quarter of 2012, but KNSJ has yet to hear from them. ASD chose locations in the East County to address what they believe is a lack of independent and educational media in the East County, the border regions and Native American reservations.
During the 3 years KNSJ was given by the FCC for set up, they have recruited community contributors and begun streaming on the web out of the ASD headquarters in City Heights.
Programming ranges from integrative health to political news shows. Syndicated programs like Democracy Now! are also broadcasted regularly.
Community members from all backgrounds and walks of life are invited to host a show as long as they meet KNSJ staff at their regular meetings and are able to provide a 10-20 minute sample of their program.
"It'll be a very proactive radio station for the community because we're really looking to the community to provide content," says KNSJ volunteer Nicole "Kali Katt" Gochmanosky. "We don't want to shove content down people's throats. We really want this to be a community radio station for the people."
When asked if the people at KNSJ are in over their heads trying to secure two stations, Eder did not seem worried. He expressed hope that once the Descanso station is up and running, it will create awareness for the need to fund the Ramona station.
Creating programming for two stations will be easy as content will be identical albeit for news regional to their surrounding areas. However, there are a few technical issues in the way of a Ramona station: Hot Springs Mountain currently lacks internet and power.
Despite the hardships facing the station, KNSJ believes it will make an impact on San Diego.
"In time, I think we're going to create something that's going to be very useful and a democratization of information," says Eder. "More people get to be heard and get to communicate with a larger community. I think that all these things are quite compelling and exciting."