Credit: smartgunlaws.org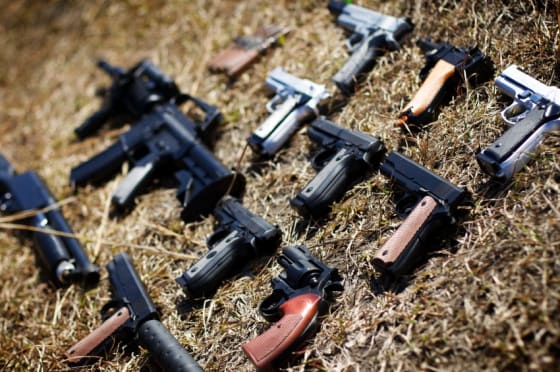 On Wednesday, two Republican California Assembly members, Dan Logue and Allan Mansoor, introduced Assembly Bill 134 (AB 134). The aim of this bill is to make a provision that the California Public Records Act does not have to disclose information regarding gun licensing. Follow @AsmDanLogue
Under the California Public Records Act, public records are open to inspection any time "during the office hours of the state or local agency that retains those records."
The existing law, however, provides stipulations that no information regarding medical or mental health history, as well as any other information that could make a household vulnerable, be made visible to the public. According to LegTrack, the telephone numbers and addresses of prosecutors, public defenders, peace officers, judges, court commissioners, and magistrates are also not required to be disclosed.
Logue recently gave the example of a woman who is being stalked and, in turn, gets her concealed weapons permit for safety. He felt that the way the law was designed now, this information made public could result in her stalker discovering her location.
Because AB 134 would increase the duties of county sheriffs and heads of other law enforcement agencies, the bill would entail a state-mandated program, of which cost is yet to be determined.
Logue says that AB 134 was prompted by the suburban New York newspaper, Journal News, which published a map online that featured the names and addresses of gun license holders in Westchester and Rockland counties . The publication of this map stirred controversy because it displayed which homes currently hold gun licenses.
FOIA Requests to no Avail, Privacy Issues Still at Hand
In response to the map, a Westchester County, NY county executive, Rob Astorino, wrote to the Journal News, requesting the publication take down the map a few weeks after the Newtown shooting.
"The right of the Journal News to publish is protected by the First Amendment," Astorino's letter said. "But simply because the right to do something exists does not necessarily make it right to do."
Several other counties close to the shooting followed suit and Putnam County Clerk, Dennis Sant, refused to provide gun holder information as a result of a FOIA request.
"These laws were written almost 30 years ago," Sant told the Associate Press. "Thirty years ago we didn't have computers, we didn't have Facebook, we didn't have social media, and we certainly didn't have Google Maps. I think that's what really broke the camel's back on this request."
Gun licensing, coupled with privacy issues, are tough for most to find balance on. It is reassuring, however, that the discussion on gun control is coming to some form of a humble beginning, despite one's stance on the issues.