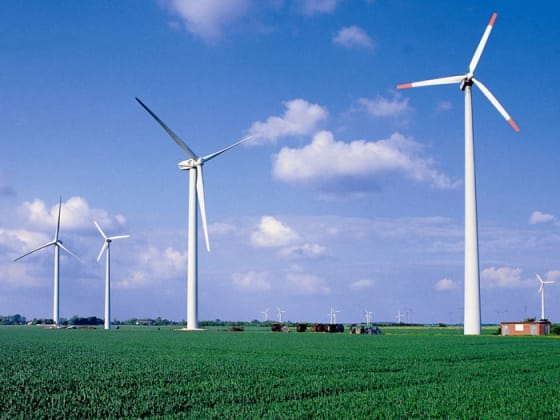 Photo: Kalev.com
Recently, Google has made an
investment
of $200 million into a wind farm in West Texas. This move is merely the latest in a growing movement of Google support for alternative energy sources.
The wind farm, called Spinning Spur, is located in Oldham County, Texas. It contains seventy wind turbines, which produce 161 megawatts of electricity, enough to power over 60,000 houses. This might seem like enough power for any one company, but according to Greenpeace, Google's servers, at full capacity, use as much as 476 megawatts of electricity.
Despite the astounding energy usage, Google's recent investment is simply that: an investment. The energy generated by these wind turbines will be contracted out to another company to power homes in the west Texas region, not Google's own servers. This is not to say that Google doesn't use alternative energy. In fact, according to Google's Green Energy webpage, 30% of Google's electricity comes from alternative energy.
Ako-Asare, Google's senior manager of corporate finance, said about the investment, "We look for projects like Spinning Spur because, in addition to creating more renewable energy and strengthening the local economy, they also make for smart investments: they offer attractive returns relative to the risks and allow us to invest in a broad range of assets."
This investment into alternative energy is certainly not Google's first. In total Google has invested over $1 billion into 11 different alternative energy programs, which include not just wind energy but solar power as well. The total amount of energy produced by all of these programs is over 2 gigawatts.
Some of Google's investments in renewable energy, such as SolarCity, have benefits that are a bit more intricate than simple profit for Google. SolarCity is Google's most expensive alternative energy investment, at a whopping $280 million.
More than a simple solar panel array, SolarCity is a movement to make alternative energy accessible to the masses. To do this, SolarCity, along with the consumer, think up a solar panel structure for that person's home. Then, Google purchases the solar panel system upfront and takes a portion of lease payments. By doing this, Google is able to eliminate much of the apprehension that comes with purchasing any kind of alternative energy for personal use.
All of Google's investments into alternative energy are symbiotic: they allow alternative energy sources to receive the big-name funding they require while also providing a reasonable return of investment for Google.

Click to Enlarge