Credit: Tsafrir Abayov/AP
With less than one week before the election, Israeli citizens are exploring new initiatives of democracy through social media, capitalizing on the power of Facebook. In an attempt to empower those marginalized in the democratic process, the initiative allows Israeli citizens to "donate" their vote to Palestinians via a Facebook post on the Real Democracy Initiative Facebook Page.
"Politics transcends borders but governments are national. This is an attempt to create a new form of politics," said Real Democracy Initiative organizer Shimri Zameret.
The Facebook page encourages Israelis to post statements and videos expressing their intent to give up their agency in place of a Palestinian's.
Moriel Rothman, a dual American-Israeli citizen, has offered his vote to promote a more democratic process in Israel. Sharing his story on Real Democracy's Facebook Page, he writes,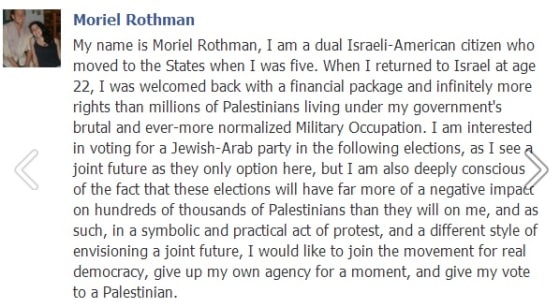 The intersection of politics and social media has become common place in the digital era and the unparalleled power of social media to connect people continues to fuel revolution and democracy. In Israel, civic struggles have led to voter apathy and distrust in the democratic process.
Acknowledging that voting isn't the end all be all to the democratic woes of the country, Nadim Nashef, director of Baladna, a Haifa-based youth organization told the New York Times it will help. "We need some kind of voice for our community, some people to speak out against racist rules and racist legislation, and that's the main reason I'm voting."
To aid in the voting process, Israeli citizen Aya Shoshan has joined the initiative and pledged to use Facebook to pass her vote along to a Palestinian living under Israeli rule. "Giving my vote is a symbolic act," she writes. "If Palestinians are not part of this democracy, then neither am I."
And while this initiative may or may not result in more democratic process, the act alone constructs an alternative voice to the dominant political narrative in the country.
Described by Kate Zambon of University of Pennsylvania's Annenberg School for Communication as the technological democratization narrative, social media innovations yield the power to ignite communities to social action. Social media gives a voice to the voiceless. It unifies people fighting for a common cause, breaking down the barriers to free speech, in turn facilitating the spread of information. Not only does this empower individuals, but it allows them to "inform the international community of authoritarian oppression and pressure the government to accept the democratic will of the people."
If nothing else, social media raises awareness. It brings to light the struggles of those fighting for democracy abroad, and could be used as a tool for those excluded from the democratic process within our own borders.