Supreme Court Building, Washington D.C. // credit: Duncan Lock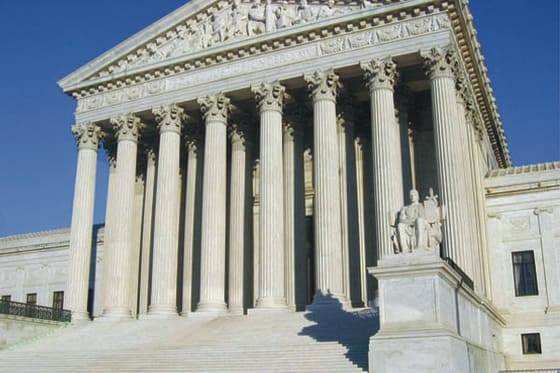 As data continues to trickle in from last year's election, the Center for Public Integrity released findings Wednesday that some of the biggest winners from the election, aside from Obama, were political consultants. The top 10 consulting firms alone were paid a combined $611 million to buy air time, produce ads, and consult candidates during the election.
The top 15 media consultants from the 2008 election were paid a combined $400 million. This election, Mentzer Media Services, a media placement firm, would constitute half of the 2008 political landscape alone, at $204 million, over half of which resulted from airtime buys for one pro-Romney Super PAC, Restore Our Future.
The overwhelming majority of ad buys facilitated by the hundreds of millions given to these media firms was dedicated to negative campaigning. 89 percent of funds went towards attack ads similar to the one from Restore Our Future below.
Dale Emmons, president of the American Association of Political Consultants told the Campaign Legal Center that the gateway for unlimited spending, opened due to the Citizens United decision, has flooded consultancy firms with campaign-related cash.
source: Center for Public Integrity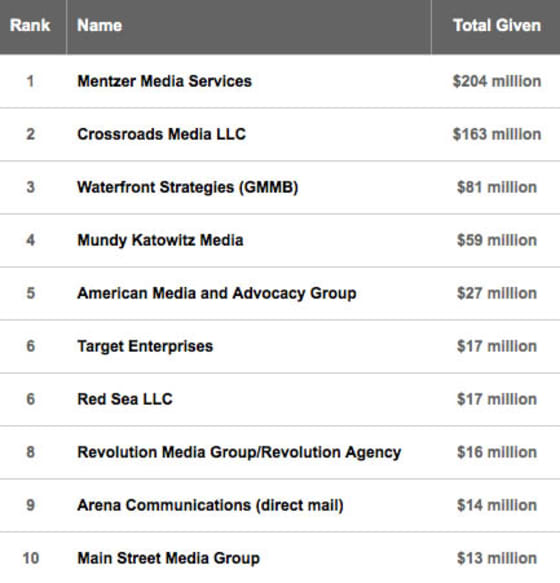 "This election appears to have set a new benchmark on the amount of money that could be spent, because there were no limits on what could be spent," he said.
Previously political campaigns had to rely on tiny bursts of up to $2,500 per donor, but now Super PACs are allowed to spend unlimited amounts to buy as much air time as possible. However, the candidates themselves aren't the ones shooting and running the ads, their respective Super PACs are.
Yet the line between candidate and consultant are continuing to blur. Existing controls prohibiting 'coordination' between candidate and Super PAC are seemingly subverted as consultants' relationships with Super PACs and candidates become imperceptible. Multiple ad buys from the pro-Democrat Senate Majority PAC, were like this one for ads in the battleground state of Ohio published by ProPublica, was purchased through Waterfront Strategies, a technical 'subsidiary' of GMMB, which boasts representation for numerous Senate Democrats.
Nevertheless, the 2012 election wasn't very cost-effective for Republicans. Most of the money came from pro-republican causes, yet only 26 percent of targeted GOP races were successful. The 2014 midterm elections could see even higher levels of spending given that no amendment to the Citizens United decision is in sight.