FEC Commissioner Ellen Weintraub // credit: Talking Points Memo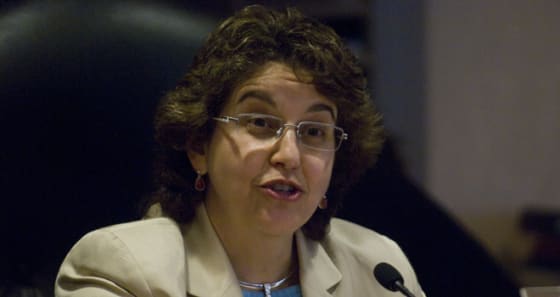 Democrat Cynthia Bauerly is set to resign after four years with the Federal Elections Commission, she announced in a letter last week. The letter reads, "I am grateful to have had the opportunity to serve the country in this role and I will step down on February 1, 2013." The news has sparked both optimism and cynicism for the highly criticized, bipartisan government agency. The Commission currently consists of six commissioners, no more than three of which can belong to the same political party.
Rick Hansen, Chancellor's Professor of Law and Political Science at the UC Irvine writes of Bauerly's resignation, "I found Commissioner Bauerly to be a consistent voice of reason and calm, with a commitment to enforcing the nation's campaign finance laws fairly.  I can understand the impulse to leave such a dysfunctional agency, though." New commissioners are appointed by the President and confirmed by congress, however the threat of a Republican filibuster in the Senate has prevented new appointments from being made for years. Minority Leader, Mitch McConnell has opposed campaign finance regulations for decades, calling them an infringement upon the first amendment.
Currently, the Commission consists of three Democrats: Ellen Weintraub (Chair), Cynthia Bauerly, Steven Walther and three Republicans: Donald F. McGahn II (Vice-Chair),  Matthew S. Peterson, and Caroline Hunter. All of whom are serving past their terms, except Hunter whose term expires in April. A 2/3 vote is required for the commission to take any official action, leading to a record low in decisions made by the FEC, according to the Campaign Legal Center.
What can be done break the partisan gridlock inherent in the FEC's structure? Bauerly's resignation could mean more than a single replacement, and campaign finance watchdogs have called on President Obama to replace all of the over-termed commissioners. Perhaps nominating candidates without any partisan affiliation is the strongest avenue for change.
A non-partisan nomination would put pressure on both Democrats and Republicans to justify any opposition based on his or her actual merits. Additionally, the 2/3 vote requirement would cease to divide the commission along party lines as there wouldn't be any. Only substantive policy disagreements could split the commission since party labels would be irrelevant.
Aside from a Supreme Court nomination, FEC appointments can be some of the most important choices President Obama makes before leaving office in 2016. The 2014 mid-term elections are closer than many realize and money has already started pouring into key congressional campaigns. The last four years of inaction from the FEC has allowed for foreign spending in campaigns through domestic subsidiaries, untraceable dark money to emerge through 'social welfare' non-profits and numerous investigations left unopened, leaving apparently-illegal campaign donations unchecked.