Credit: schoolbook.org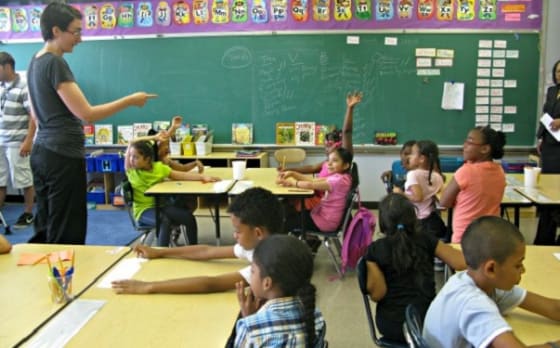 States, educators, school districts, and administrators are all looking at methods for helping students overcome achievement gaps. Students are performing at different levels across different demographics. Two states, Virginia and Florida, have decided that a lower rate of success for student performance within under-performing demographics is necessary.
The Virginia State Board of Education adopted new rates of success based on ethnicity late last year:
"Every school is expected to pass at least 82 percent of Asian students, but only 68 percent of white children, 52 percent of Hispanics and 45 percent of blacks."
The Virginia Board of Education and its president have stated that setting new expected percentages of students passing standardized tests does not lower expectations from individual students.
Florida has similar state standards for rates of overall proficiency with regards to race:
90% of Asian students, 88% white students, 81% if Hispanic students & 74% of "black" students are to be reading at or above grade level. 2), 86% of white students, 92% of Asian students, 80% of Hispanic students and 74% of black students are to be at or above their grade level in math.
Both Florida and Virginia applied to be exempt from the accountability standards of the No Child Left Behind Act. Both states were granted the waiver and abide by their own educational standards for student performance.
A nuance to consider that may be misunderstood is that the percentages are not the scores an individual student needs to reach in order to be deemed proficient. The percentages are for the overall number of students who are proficient within the demographic in order for the state to be deemed successful.
One can argue that the two are one in the same. By having a lower expectation of success rates based on ethnicity, an attitude that certain kids cannot compete on the same level as others can brew.
Miami Herald columnist Leonard Pitts shared his anecdotes in an Op-Ed titled, "Don't Lower the Bar on Education Standards." The piece spoke out against the race-based standards of the state of Florida. He recalls experiencing a different level of expectations growing up as an African-American kid in Los Angeles.
"I scored 960 on my SAT. This was good enough for second best in my class and many congratulations and backslaps from teachers and administrators." "I've always suspected my modest SAT score and the fact that I was encouraged to celebrate it said less about me than about the expectations others had of me — and kids like me."
Leonard Pitts digs into the emotional effect of varying standards based on race. He stated the notion may instill in students a "mistaken idea they carry some inherent deficiency that renders them unable to compete with other kids on an equal footing."
National Public Radio (NPR) discussed the issue on the program Talk of the Nation and brought on Leonard Pitts as a guest. A caller from Ohio, by the name of Emily, shared the same sentiment as Pitts:
"If we're lowering the bar and giving kids a false sense of success, it's really not helping them in the long-run. When kids get out of school, the playing field is going to be level. We're not setting them up for success in life." "Why don't we take all the resources we can and help these kids get to where they need to be? Some of them are going to need more than others and we can give everyone what they need. All kids can come out of school with the potential to be successful."
California Governor Jerry Brown and the caller are essentially on the same page. In Gov. Brown's proposed 2013-2014 state budget, funding increases for K-12 vary depending on the number of low-income students in attendance. The plan is predicated on the fact that low-income students may not have the community or at-home resources to experience the same level of education as other students.
California applied for an NCLB waiver in order to adopt its own state standards for education as the sole measurement. They have been denied by the Department of Education.
In the NPR program, Pitts ended the discussion by mentioning the politicization of education:
"We as a country are tied in knots about everything. Every question and issue is politicized. There's such a polarized feeling going in the country about everything, that I don't think we can sit down and have a discussion about education."
The perception is that states and their education boards are making distinctions on the meaning of success based on ethnicity. While not explicitly lowering standards for individual students, Virginia and Florida are redefining how the states perceive successful proficiency rates. So long as the achievement gap is present between ethnicities, the conversations of how to measure success will continue.