credit: Legislative Analyst's Office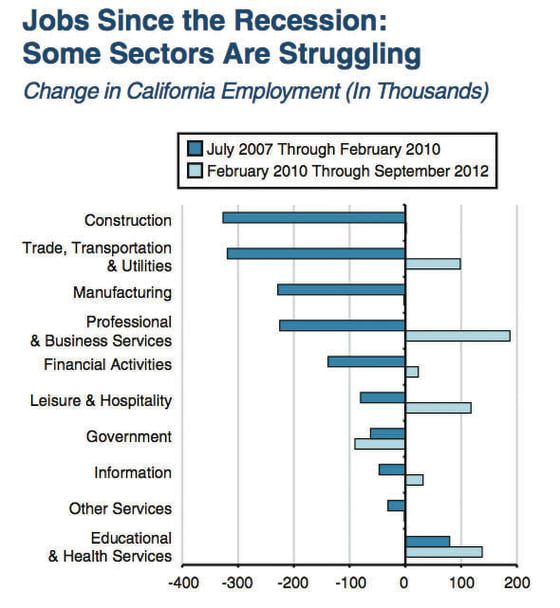 The Legislative Analyst's Office Cal Facts 2013 report released Wednesday details the California economic recovery as having mixed results. The figures suggest California still has to make up considerable ground before reaching pre-recession employment and budget deficit levels.
The report reads, "The state's economic recovery, prior budget cuts, and additional, temporary taxes have contributed to a much smaller budget shortfall in 2013-14." However, these projections can be altered significantly if larger economic trends sour later this year. The aforementioned budget cuts and temporary taxes have had a noticeable impact on numerous sectors of California's economy.
An additional report released Friday, from the Department of Labor, recorded only modest growth jobs nationally. Nearly 155,000 jobs were added in December. As both California and the U.S. continue to add jobs, many previously discouraged job-seekers are starting to remount job hunting efforts.
Of the 1.4 million Californian jobs lost during the Great Recession, 35 percent, or 500,000 jobs, have been recovered within the state. Industries that are leading the employment charge are primarily service related, in stark contrast to a national jump in construction and manufacturing jobs (likely related to Sandy reconstruction efforts). Construction and manufacturing jobs in California specifically have yet to rebound to pre-2007 levels, but remain close to national average percentages. The educational and health services, professional and business services, and leisure/hospitality industries have all improved significantly since 2010.
Central Valley counties like Fresno and San Joaquin remain at over 13 percent unemployment as of October 2012, whereas more coastal counties like San Mateo have managed to stay below the national average of about 8 percent.
The report also recognized a net decline, 18 percent, in state spending over the last five years once adjusted for inflation and population growth. General fund expenditures are down almost $2 billion when compared to 2006-2007, helping to reverse budget deficits. The reduction in spending shows a noticeable impact on state programs, however, particularly those serving families on welfare.
Subsidized childcare for families receiving welfare benefits has taken a substantial hit starting in 2009. After losing almost 25% of their funding by 2012, 82,000 fewer children have had access to state funded preschool and daycare services. Likewise, state funding of education has dipped. School staffing has declined by an average of 11 percent, although student achievement has risen steadily since 2003.
Perhaps the most important figures detailed in the LAO report are in home foreclosures. When compared to 2008, 83,000 fewer homes were foreclosed in 2011. This 35% decrease has allowed California's home prices to increase slightly in recent years, good news for homeowners in the state.
California's economic recovery is not being felt uniformly throughout the state, but general trends are more positive than not. As a highly globalized state, and the 9th largest economy in the world, California's long term prospects are positive. Nevertheless, California still has a lot of work ahead to regain economic steam.