Senators Ron Wyden (D-Oregon) left and Lisa Murkowski (R-Alaska) right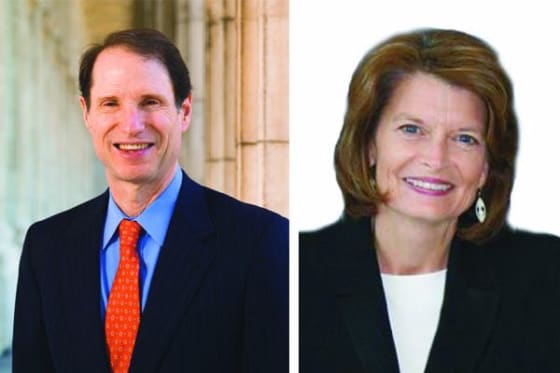 As we ring in 2013 with falling globes and confetti, lawmakers in Washington are celebrating another New Year's tradition, introducing campaign finance reform. This time, however, the measures come with some Republican support.
Senators Lisa Murkowski (R-Alaska) and Ron Wyden (D-Oregon) voiced plans to revive past attempts at campaign finance reform late last week. Currently called the Wyden-Murkowski Disclosure Proposal, legislation based on their outline is set to hit congress on January 15th. Despite being a part of last year's abstention on the DISCLOSE Act vote, Murkowski argues that following Alaska's example of campaign finance disclosure will make it easier for Americans to make informed decisions.
The proposal is largely aimed at targeting and exposing the funders of non-profit advocacy groups, unions, and corporations that attempt to influence elections. According to the Center for Responsive Politics, over $200 million was spent on the 2012 election by like organizations in September and October of 2012 alone. Thus, avoiding existing disclosure regulations. Organizations that aren't subject to current disclosure laws are many 501 (c)4 categorized non-profits, like Carl Rove's Crossroads Grassroots Policy Strategies and the Republican Jewish Coalition.
The Wyden-Murkowski proposal points out, "[A]ny organization engaging in federal political activity of any kind … would be required to disclose their donors in real time. The law would apply to every candidate running for office and every billionaire hoping to influence an election."
In order to more effectively enforce these regulations, Wyden-Murkowski redefine the nebulous diction that has aided groups from disclosing donors previously. Phrases like 'election related activity' are enumerated in detail to include, polling, campaign strategy, and messaging specifically. Organizations that fall under these criteria, once finalized by the FEC, will be required to disclose donations over $500.
So what gives the Murkowski-Wyden plan a better shot at overcoming another Republican filibuster? A higher minimum disclosure cap of $500 rather than $200 for all political contributions, including candidates and political action committees, as well as an exemption for dues supported organizations. Organizations like local chambers of commerce and the AARP would not be subject to disclosing the identity of members contributing under $500 in the form of membership dues. As stated earlier, this increased exemption applies to candidate donations as well. By bumping up the disclosure limit for an individual's contribution to a candidate, those in congress might expect a slight bump in personal fundraising next election.
Whether or not the increased cap will be enough to whet enough Senators' appetites to broadening donor disclosure requirements is still too early to tell. Nevertheless, Murkowski's apparent redirection on campaign disclosure reform makes it the best bet for 2013.