Jack London photograph of Japanese refugees. Credit: sdmaritime.org

Jack London held many occupations, both savory and not, throughout his life in the Golden State. He was a sailor during the Klondike Gold Rush, frequented Heinold's First and Last Chance Saloon in Oakland, and was an early proponent for sustainable or "scientific" agriculture. Working as a journalist, and attempting to break into the literary scene, London captured his seaward voyages, as well as the Russo-Japanese War via early photojournalism. Fifty of London's photojournalist pictures are currently on display aboard the San Diego Maritime Museum's Star of India, of which the collection is simply titled, Jack London Photographer.
Best known for novels Call of the Wild, White Fang, and Valley of the Moon, as well as short stories "To Build a Fire" and "The Heathen," among countless others, London is a true California literary icon. Valley of the Moon, as well as The Sea-Wolf are set throughout Sonoma Valley (where London spent the latter years of his life), the bay area, and deep into the Pacific Northwest. London's work evolved - much as the writer himself - and as many have a tendency to do, based most of his characters from those around him. The character Wolf Larsen in The Sea-Wolf was primarily based on infamous sea captain Alexander McLean, although highly fictionalized by London.
Jack London during the Russo-Japanese War. Credit: inkhornterm.blogspot.com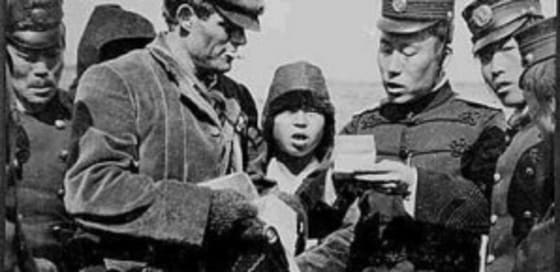 London's photojournalism work provides an insight into the artist's literary endeavors, as many Americans during the turn of the century would have never had the physical capability to extensively travel as he did.
The San Diego Maritime Museum partnered with the Huntington Library and California State Parks in acquiring and exhibiting these elements of California History.
The exhibit takes place in the front hold of the Star of India, which provides a touch of authenticity, as most of the photos entail London's seafaring days. However, the exhibit includes photo journals of refugees of the Russo-Japanese War, while London was working for Hearst Syndicate in 1904, ruins of the 1906 San Francisco Earthquake, his adventures in the South Sea Islands from 1907-08, and his rounding Cape aboard the Dirigo in 1912.
Jack London Photographer is one of many rare cultural exhibits that take place regularly aboard the Star of India. His pictures will be on display exclusively at the San Diego Maritime Museum until December 23.
The San Diego Maritime Museum is located at 1492 North Harbor Drive downtown.