credit: Mike Foster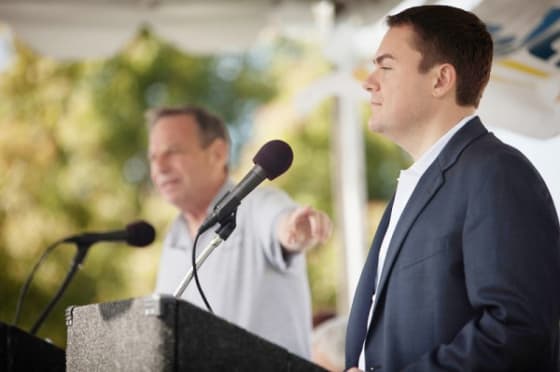 Polls conducted by SurveyUSA on August 24 and again on September 25 show Independents' support of mayoral candidate Carl DeMaio dropping. Filner and DeMaio were virtually tied amongst Independents at the end of August at 41 percent and 40 percent respectively. However, the September poll shows DeMaio's favorability amongst Independents down 5 percentage points, to 35 percent, and Filner down only one point to 40 percent.
Filner and DeMaio ended September with only six percentage points between them, 47-41, Filner holding the slight lead. Now, the gap has increased by six points, 50-38. As Filner pulls ahead only weeks before early voting starts, it seems that DeMaio's September strategy to court Independents did not resonate as well as he had hoped.
During the month-long interim, DeMaio tried to appeal to Independents by highlighting his bipartisan coalition on the campaign trail. Regarding his endorsements, DeMaio told KUSI news in September,
"I'm just so pleased to have democrats, republicans, and independents stepping forward to be part of my bipartisan jobs creation coalition."
DeMaio also emphasized his support amongst Independents for his candidacy.
"We also have Scott Dickey of the Competitor group, he's an Independent… What I'm trying to do is not only lay out plans, but put together a diverse and broad administration. I call it including all of San Diego's faces."
The number of undecided Democrats and Republicans has decreased, but Independents who are undecided jumped nearly seven percent, falling mostly from DeMaio's camp. Though Independent support for DeMaio has shrunk, Filner has been able to hold on to the crucial voting bloc. The reason for this is possibly due to Filner's success in painting DeMaio as co-opted by 'special interests.' During a debate with DeMaio in early September, Filner remarked,
"That's what's happened in this city, usually in a more subtle way, that the special interests get the right to take our money, our tax money, and spend it. That's what Mr. DeMaio represents for the future of San Diego."
It is possible for the undecided Independents to jump back onto the DeMaio bandwagon, but with the election drawing near DeMaio might have to rethink his strategy regarding Independent voters.