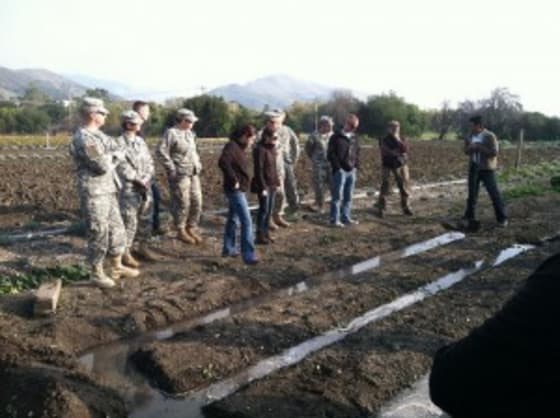 California State University-Fresno was awarded a $3 million, two-year contract by the USDA's Foreign Agricultural Service to train U.S. marines and government officials how to promote agricultural self-sufficiency and food security in Afghanistan.
The Agricultural Development for the Afghanistan Pre-deployment Training (ADAPT) program provides instruction on the main crop and livestock components that make up farming environments in Afghanistan and discusses ways to improve them, according to a Fresno State press release.  The program, which has as its goal the establishment of sustainable agricultural systems in various parts Afghanistan, is uniquely suited to the campus's setting.
"The San Joaquin Valley has many of the same crops as Afghanistan, including pomegranates, pistachios, almonds, grapes, melons, apricots, cherries and figs," the release states. It adds, "Many agro-climatic characteristics between the two regions are nearly identical, giving trainees a good idea of what they'll face in Afghanistan."
The ADAPT program represents an expansion of similar training to Marine Corps Civil Affairs detachments attending Fresno State for the past two years. According to Dr. Bill Erysian, principal investigator on the project under the Center for Agricultural Business at Fresno State:
"ADAPT training emphasizes agricultural knowledge and country-specific issues that will give U.S. personnel the tools needed to implement their mission of creating a more stable Afghanistan through economic development, governance and agricultural sustainability."
A consortium of campuses will follow Fresno State's lead in implementing the ADAPT program. Members include California Polytechnic State University San Luis Obispo, Southern Illinois University and Colorado State University.