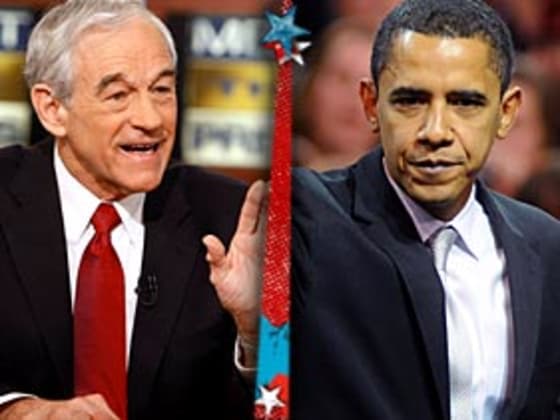 A recent Rasmussen survey of likely U.S. voters found that Texas Congressman Dr. Ron Paul runs practically dead even with President Barack Obama in a hypothetical head-to-head 2012 White House race. Additionally, the poll data suggests that the Tea Party 'Godfather' may stand in the way of another Tea Party superstar and potential presidential candidate, Sarah Palin. 
Rasmussen Reports asked the following in a telephone survey conducted of 1,000 Likely Voters from August 15-16, 2011:
     "What if the Republicans nominate Ron Paul? If the 2012 Presidential Election were held today would you vote for Republican Ron Paul or Democrat Barack Obama?"
As President, Barack Obama captured 39% of the vote among likely voters, with the Texas Congressman right on his tail with 38%. Only 14% liked some other candidate, and 8% were undecided on the matter.  Rasmussen notes that this is a slight change from poll data conducted just about a month ago, which had President Obama ahead of Congressman Paul by 41% to 37% in a head-to-head matchup.
By an overwhelming margin, Congressman Ron Paul gets 76% of the Tea Party support. As former Alaska Governor Sarah Palin seemingly circles around the presidential race and mulls an entrance into the contest, Rasmussen says that Paul maintains his strength in being a more viable candidate against President Obama. Unlike the dead heat that the President appears to face in an opponent like Paul, Obama easily defeats Palin by double digit margins among all likely voters.
In a contest with President Obama, Paul fares especially well with voters unaffiliated with either of the two major parties. Independent voters prefer him by ten points or 43%-33%. With Paul as the Republican Party's nominee, 61% of his own party would prefer him over President Obama. 
However, when running alongside his fellow GOP candidates, Republican voters recently placed him in the fourth spot with 9% support. Despite this, Paul has demonstrated that he isn't intimidated when it comes to going after frontrunner and fellow Texan Gov. Rick Perry. Congressman Ron Paul has hit the governor as an establishment candidate, highlighting his former association in working for the Al Gore presidential campaign in 1988.
Among likely primary voters, 43% have a favorable view of Paul. Slightly more, at 45%, have an unfavorable view of him. 15% have a "Very Favorable" view of Paul compared to 14% who have a "Very Unfavorable View." 
The margin of sampling error for the survey conducted was at +/-3% with a 95% level of confidence.